5 Direct Care Workforce Resources You Might Have Missed in 2022
August 23, 2022
Just like the workforce itself, the knowledge base on direct care workers grows every year.
In 2022, PHI has already released several publications to help policy and practice leaders better understand this workforce. From a national study on state-level hazard pay and sick leave policies to a research brief on racial and gender disparities within the direct care workforce, and much more, we continue to shed light on these critical workers.
Here are five direct care workforce resources from PHI you might have missed in 2022.
HAZARD PAY & SICK LEAVE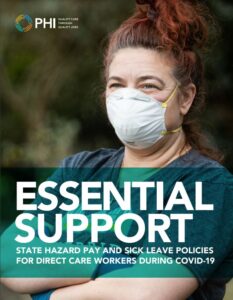 Direct care workers have been deemed essential during the COVID-19 pandemic, yet in the first stages of this crisis, state-level responses for workers were mixed and often insufficient. Our July 2022 report—Essential Support: State Hazard Pay and Sick Leave Policies for Direct Care Workers During COVID-19—details findings from our study on supportive policies enacted (or already in place) across all 50 states and the District of Columbia from March 2020 to August 2021. According to this study, while 24 states and DC supported direct care workers with hazard pay and/or paid sick leave policies during the first 18 months of COVID-19, 26 states did not.
DEFINING HISTORICAL MOMENTS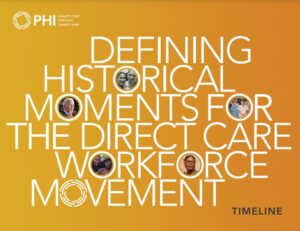 In recent years, public attention on direct care workers has increased significantly, driven mainly by the efforts of organizations such as PHI and many others, as well as major developments like the COVID-19 crisis, which has underscored the essential yet undervalued nature of direct care. The decades of activism that have led to groundbreaking developments for this workforce were captured in our May 2022 publication, Defining Historical Moments for the Direct Care Workforce Movement. This publication also highlights how, despite these successes, we must continue working to transform this workforce and improve the support that direct care workers deliver every day.
STATE STRATEGIES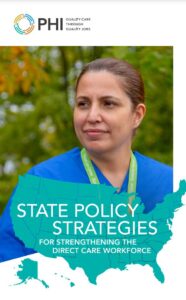 Momentum to support the direct care workforce at the state level has never been stronger, thanks in part to a boost in federal dollars through the American Rescue Plan Act. To amplify this trend, we released  State Policy Strategies for Strengthening the Direct Care Workforce in April 2022. This practical guide provides 24 state-specific policy strategies, drawing on ideas and examples from states throughout the country. Later this year, we'll release a digital state advocacy toolkit, which will complement this guide and further support state advocates.
'ESSENTIAL JOBS, ESSENTIAL CARE'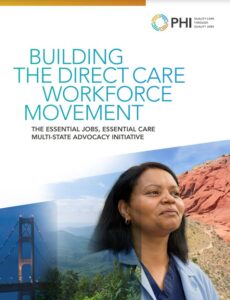 In 2020, we partnered with three statewide coalitions to launch multi-year advocacy initiatives in Michigan, New Mexico, and North Carolina. In March 2022, we issued a progress report—Building the Direct Care Workforce Movement: The Essential Jobs, Essential Care™ Multi-State Initiative—which shows that this initiative is making a big difference in moving critical policy reforms for this workforce and building the advocacy capacity of these coalitions to advance direct care workforce issues. Adrienne Smith, president and CEO of the New Mexico Caregivers Coalition (one of our three partners in the first stage of Essential Jobs, Essential Care), said, "This initiative is going to bring a huge bump to our organization's visibility. The administration has got to reckon with us now. They know we've got good ideas and great policy proposals."
RACIAL & GENDER DISPARITIES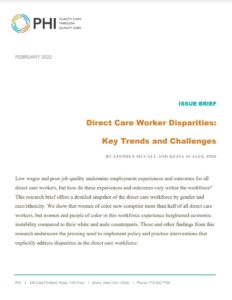 The direct care job has been undervalued for decades in large part because of a long history of discrimination against the women, people of color, and immigrants who primarily comprise this workforce. This discrimination harms direct care workers in various ways, as evidenced in our February 2022 research brief—Direct Care Worker Disparities: Key Trends and Challenges. Among many findings, this brief found that Black/African American direct care workers have the lowest family income among all racial and ethnic groups, an inequity rooted in systemic racism dating back to slavery and the Jim Crow era.
Read all of PHI's reports and multimedia resources here.