To transform the entire direct care workforce, we must improve the overall quality of these jobs while advancing an intersectional racial and gender equity approach that confronts the many injustices experienced by direct care workers.
Throughout the country, direct care workers struggle with inadequate compensation, insufficient training, limited advancement opportunities, and a general lack of respect and recognition—despite their critical roles in the lives of millions of people. As a result of poor job quality in this workforce, long-term care providers face a longstanding but increasingly untenable recruitment and retention crisis, and older adults and people with disabilities cannot access the consistent, high-quality services they deserve.
For a workforce comprised largely of women, people of color, and immigrants, systemic racism and gender injustice—among other inequities—are at the core of these job quality challenges.
ABOUT THE EQUITY INSTITUTE
PHI's Direct Care Worker Equity Institute strives to address the structural inequities and profound disparities facing direct care workers to ensure that every one of them can thrive personally and professionally—and deliver the care that millions of older adults and people with disabilities deserve.
Through this institute, we:
Maintain a centralized online hub of equity-focused direct care workforce resources and publications
Produce original studies and policy resources on the systemic inequities facing direct care workers
Develop equity-specific advocacy tools to help state and federal leaders create a strong and equitable workforce
Design and inform workforce interventions in direct care that reduce disparities and promote equity within the direct care workforce
Convene direct care workforce experts—including workers themselves—to craft equity-based policy and practice solutions
Collaborate with leading organizations representing people of color, women, immigrants, and LGBT communities, among others
To learn more about the Equity Institute, please contact Robert Espinoza, PHI's Vice President of Policy, at respinoza@PHInational.org.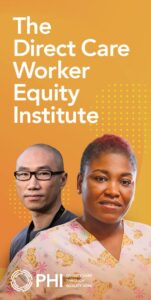 Brochure
The Direct Care Worker Equity Institute
Read how and why PHI's Direct Care Worker Equity Institute will tackle the many disparities and inequities facing the direct care workforce.
Download
Featured Equity Resources
PHI studies the disparities and inequities facing the direct care workforce. Scroll through our resources to learn more.