A Historic and 'Sweeping' Executive Order for Direct Care Workers
April 20, 2023
Earlier this week, President Biden signed an Executive Order that included more than 50 executive actions designed to enhance care for hard-working families and bolster support for direct care workers and family caregivers. These directives, aimed at almost every cabinet-level agency, seek to broaden access to affordable, high-quality care.
A Historic Gathering at the White House
On April 18, 2023, the Biden administration convened a select group of national and state leaders in long-term care, caregiving, and early education at the White House. This historic gathering recognized the invaluable contributions of direct care workers and family caregivers, offering a platform to celebrate their roles in the lives of millions of Americans.
PHI's President and CEO, Jodi M. Sturgeon, and Executive Vice President of Policy, Robert Espinoza (pictured below), had the privilege of watching President Biden sign the Executive Order.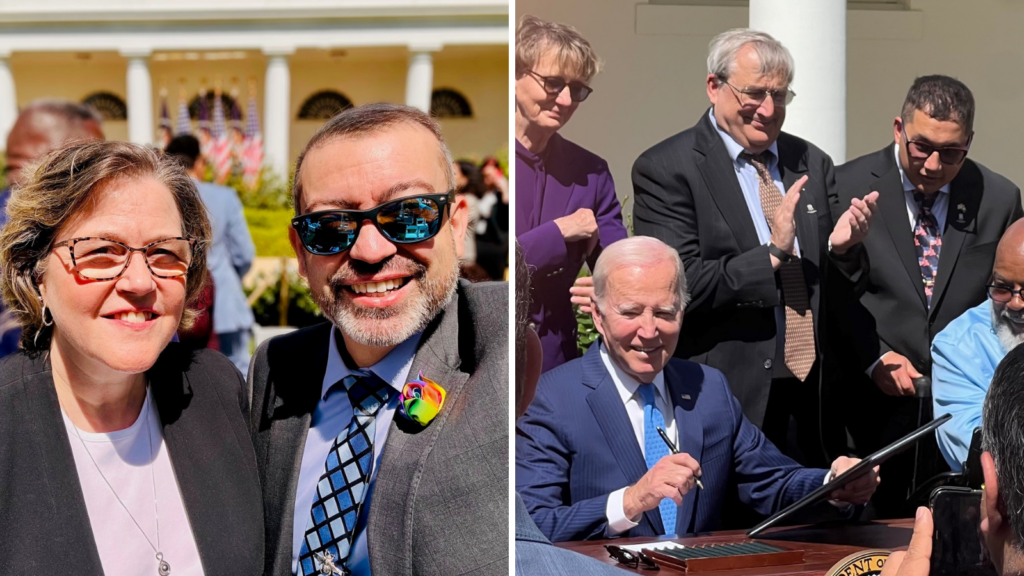 A Landmark Executive Order
During the event, President Biden unveiled an Executive Order that the White House described as the "most sweeping set of executive actions to improve care in history." The order comprises more than 50 directives to expand access to affordable, high-quality care and provide support for care workers and family caregivers.
One notable example is a directive for the U.S. Department of Health and Human Services to consider leveraging Medicaid funding to ensure there are enough home care workers. This move by the White House reinforces a crucial turning point in federal policymakers' acknowledgment of direct care workers—highlighting their vital role in our society and the need for further support and advocacy.
View the Executive Order fact sheet from the White House here.
PHI's Leadership and Collaboration
President Biden's Executive Order also serves as a powerful sign that our work is moving the policy needle on this workforce, illustrating how PHI's decades of work—and our partner organization's efforts—are paying off.
For years, PHI has been a foremost leader on these issues at the federal level. Just in the last few years, we have testified before Congress twice; authored seminal reports, including a signature report on national policy priorities on this workforce; have been routinely referenced in the media and political discourse; and partnered with leading organizations like the Leadership Council of Aging Organizations, the Eldercare Workforce Alliance, the National Council on Aging, and the National Alliance for Caregiving, to name a few. Our work has left its imprint on virtually all federal policy proposals introduced in recent years on this essential workforce.
However, it also underscores all that remains to be done at the federal and state levels, in both policy and practice. More than ever, we're committed to realizing our mission.
Gratitude and Moving Forward
We are incredibly grateful for our valued funders and partners' support of PHI. Your continued backing has enabled us to participate in these events and shape public policies that will have a lasting impact on the economic security of direct care workers and the stability of the long-term care sector.
As we move ahead, we will keep you informed about the insights and partnerships gained from these events and how they influence our strategies and initiatives. We look forward to continuing our collaboration with you to drive meaningful change in the lives of direct care workers.