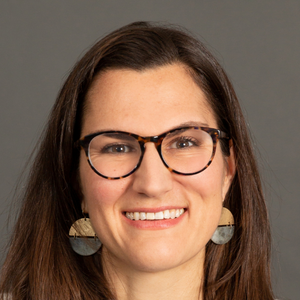 Jessica King (she/her)
Research and Evaluation Associate
As a Research and Evaluation Associate, Jessica supports PHI's strategy for building the evidence base on state and national policies and workforce interventions that improve the quality of direct care jobs and the quality of long-term services and supports for older adults and people with disabilities. Jessica is responsible for designing and implementing research and evaluation activities, as well as managing key PHI resources, such as the Workforce Data Center and the National Direct Care Workforce Resource Center.
Jessica's training and background lie in the social work and healthcare fields. Jessica has worked in a variety of settings within the healthcare sector as a clinical social worker, including in residential care, community mental health, mental health crisis centers, and hospitals. This clinical experience provided motivation for Jessica's research on family and other caregivers of older adults, which she spent five years investigating as part of her doctoral research. Jessica uses qualitative methodological approaches to understand and contextualize caregiver-adjacent experiences, using first-person narrative perspectives to elevate the humanity of caregivers and their plights. Jessica has published articles in peer-reviewed journals and given numerous presentations on the burdens inherent in caregiving and the need for workplace policy reform to better support caregivers. Using this knowledge of informal caregiving, Jessica brings insight into the challenges faced by direct care workers and potential policy solutions that could alleviate them.
Jessica spent the past four years working as a Project Manager with the Paul Freeman Financial Security Program with the Knoebel Institute for Healthy Aging at the University of Denver. In this role, she was involved in a spectrum of research pertaining to older adults, including cognitive impairment, financial vulnerability, and susceptibility to frauds and scams. Jessica collaborated with external partners to conduct program evaluations on organizations that provide products and services for older adults and their informal and professional caregivers. Jessica was an instrumental part of a research team that was awarded both a $1.8 million and $2.5 million NIH small business innovation grant in 2021 and 2022.
Jessica earned her PhD in Social Work from the University of Denver, her MSW from Boston College, and her BA in Psychology from Emory University. She is based in Boston, MA.