For Direct Care Workers, the American Jobs Plan Is a Lifeline
On March 31, 2021, President Biden announced a historic plan to transform our country's infrastructure. The American Jobs Plan seeks to invest more than $2 trillion in infrastructure, including roads, bridges, utilities, housing, and more. In its official fact sheet on the plan, the White House boasted, "The American Jobs Plan will invest in America in a way we have not invested since we built the interstate highways and won the Space Race."
This plan also allocates $400 billion toward expanding home and community-based services (HCBS) and improving jobs for home care workers—along with other investments that, as this article explains, would benefit the entire direct care workforce. The American Jobs Plan represents an unprecedented investment in this sector and a hard-earned acknowledgment that home care services and workers are critical to our lives, the U.S. economy, and our national infrastructure.
Here's why direct care workers need this plan and how it could improve job quality for this essential yet undervalued workforce.
WHY IT'S NEEDED
More than ever, the direct care workforce requires a significant federal investment. Direct care workers—about 4.6 million home care workers, residential care aides, and nursing assistants nationwide—provide essential daily support to older adults and people with disabilities. Despite their enormous value, these workers struggle with poor-quality jobs, as evidenced by low compensation, inadequate training, and limited career advancement opportunities, among other challenges.
As a result, many workers leave this field, which leads to staffing shortages for employers and unmet needs for consumers —a problem that will worsen in the decade ahead. Our new research shows that between 2019 and 2029, the long-term care field will need to fill 7.4 million job openings in direct care. (See figure below.) The American Jobs Plan would go a long way toward addressing this monumental challenge, especially in regard to the home care workforce.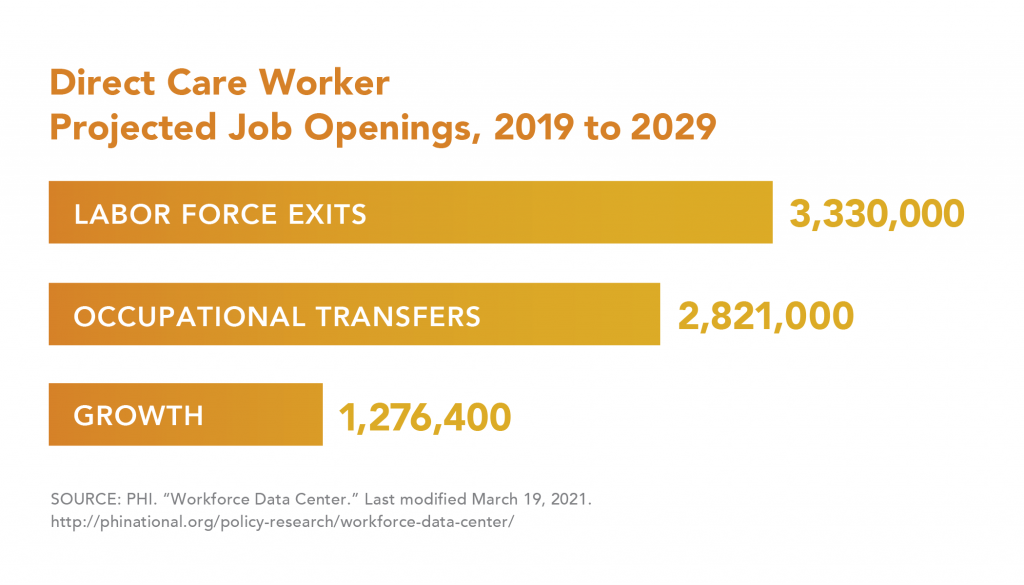 WHAT'S IN THE PLAN
While many aspects of the plan need more detail, it's most significant investment relates to bolstering our country's care infrastructure. The plan calls for an investment in expanding access to home and community-based services, which would help support the nearly 15 million individuals living at home who require some form of personal assistance and where nearly 2.4 million home care workers are employed.
Paired with this item is a proposal to create "new and better jobs for home care workers," mainly by raising wages and benefits and by providing workers "a free and fair choice to join a union." The plan's focus on compensation is laudable; the median wage for home care workers in the U.S. is $12.12, a wage that increased by only $0.91 (adjusted for inflation) between 2009 and 2019. As a result, 45 percent of home care workers live in or near poverty—and many also lack sufficient access to benefits, such as health coverage, paid sick leave, and more.
***
DID YOU KNOW? Raising wages for direct care workers benefits workers, consumers, and the economy. A September 2020 study from LeadingAge found that raising wages for direct care workers to at least a living wage in 2022 would benefit more than 75 percent of workers with an average 15.5 percent pay increase that year. The overall cost of this increase—$9.4 billion—would be modest compared to total long-term services and supports (LTSS) spending ($366 billion in 2016) and would likely be offset by cost savings generated by lower turnover and higher productivity. Higher wages can also improve care, boost economic growth, and decrease public assistance spending. 
***
The American Jobs Plan also aims to build the infrastructure for education and workforce development, including workforce supports (wraparound services, income supports, training, and more); sector-based training programs in high-demand sectors, including direct care; career pathway programs; and community college partnerships that deliver training programs for in-demand skills. These approaches have a long and successful history in direct care and would greatly benefit the long-term care sector, where the need for a range of targeted workforce interventions remains high.
The plan also includes various measures to support workers' rights, which would help address the structural inequities facing the predominantly female and people of color direct care workforce. These measures include legal benefits and protections for domestic workers, efforts to address gender-based pay inequities, enforcement mechanisms to promote workplace safety and health, and requirements to "follow strong labor standards and remain neutral when their employees seek to organize a union and bargain collectively."
OTHER OPPORTUNITIES
The American Jobs Plan also includes several additional items that would support direct care workers' jobs and lives. The plan's infrastructure investment in affordable housing, transportation, and childcare facilities would support low-wage workers who travel daily for their jobs and need affordable housing and childcare options. (Of note, the plan invests in childcare facilities, not childcare workers, a critical component of this system.)
Bolstering the infrastructure and services in communities vulnerable to climate change—as the plan proposes—would help people of color and low-income direct care workers who reside in those areas. Finally, the plan's proposed funding for expanding high-speed broadband infrastructure and developing rural and Tribal communities would assist direct care workers who rely on technology to support their clients and residents, especially in rural areas of this country, where the thin healthcare infrastructure, limited transportation network, education and training program gaps, and other factors pose notable barriers to service delivery.
BUILDING CARE INFRASTRUCTURE
The current debate on the American Jobs Plan has been clouded by the argument that care services and jobs don't meet the traditional understanding of "infrastructure." Many mainstream definitions of "infrastructure" include personnel, and at their best, infrastructure plans should ensure strong job quality. It's also hard to imagine our country's infrastructure or economy functioning correctly without workers being able to access quality care or work in quality jobs. In truth, this semantics debate serves more as a partisan red herring meant to distract the public from a more urgent issue: the dire need to strengthen this country's care system—and the jobs of workers who serve as its backbone.
Ultimately, the infrastructure debate might be irrelevant, since the plan has generated widespread support across party lines, and the demand for direct care in particular is affecting more and more Americans. It's time that federal leaders invest the same level of care in these workers as these workers do in all of us.
To learn more about the direct care workforce, please read Caring for the Future.