How My Father Became a Caregiver for Abuela
My favorite part about any holiday season is the time I spend with Abuela ("grandmother" in Spanish). But this past December was different.
That mid-December morning, my dad brought my grandma to our house for dinner, and when they walked through the door, I could tell this wasn't like every other year. Abuela couldn't get up the two stairs in the garage without my dad supporting her, and she quickly sat on her walker once making it into the house. She had lost weight, couldn't walk on her own, and from the conversations we would have that night, struggled with advanced dementia.
I had watched my dad all day. He made sure the walker was ready for her with the breaks engaged and placed near the door. He strategized about the most supportive chair for her in the living room, helped her get in and out of the car, and assisted her in the restroom. When did he learn to do all this? I asked him, and he told me he had been the primary caregiver for my great-grandmother, Rufina, after they had immigrated from Cuba. He was only 13 when he began caring for her.
I recently spoke to my dad about this experience, which reminded me how invisible family caregivers can be despite the immense amount of support they offer older people and people living with disabilities. The nature of their work often leaves them isolated and disconnected, yet the deep knowledge they have of their loved ones' preferences and wellness makes them an invaluable resource for any care plan. New federal legislation offers a promising start to supporting family caregivers around the country, as does the work we take on at PHI, which ensures that direct care workers can offer valuable support to family caregivers as they care for their loved ones.
Here's my dad's caregiving story.
Emily Dieppa: When did you start caring for Rufina? What led to you being her primary caregiver?
Mani: Well, Rufina was always the person to take care of me. We were a lot alike, and I think we had a mutual respect. When she went through a few illnesses, like cancer and pneumonia, she started needing more help. She'd always ask for me, and I think it's because of the relationship we had.
Another reason I took care of her is because your grandparents worked at the same factory back then. They'd leave around 5:30 in the morning, so before I left for school, I'd get Rufina ready. I'd help her get dressed, make sure she settled into her favorite chair, had the remote control–God forbid you keep her from The Price is Right–and put food and water close by. Once I could drive, I'd leave school at lunch and come check on her.
ED: This is part of what amazes me. How did you learn to take care of her?
M: I really didn't! I didn't know what I was doing – I just figured it out. As far as bathing or dressing, I talked to her a lot. I asked her what she needed, and I listened to whatever she'd tell me. She always wanted to do as much for herself as possible, and I tried to make sure she was safe the whole time.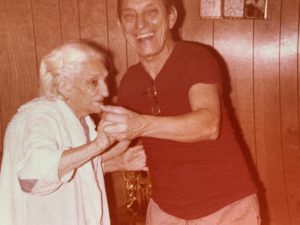 ED: Did anyone ever talk about Rufina living in a nursing home or another type of residential setting?
M: No. Our culture, especially your grandparents' generation, believed you should take care of your family members. If your mom gets sick, she automatically comes to live with you, no questions asked. They felt like since your parents raised you, you had an obligation to care for them when they needed it. You never–and I mean, never—talked about your family member living anywhere but in your home. It was a responsibility.
ED: Would Rufina's life have been different if she didn't have you as a caregiver?
M: I always went out of my way to include her. I know she really appreciated when I'd invite her to go shopping with us or run errands, because she was able to get out of the house. I think she had a fuller life and felt more like an important part of our family because I was there for her.
ED: How do you believe that caring for Rufina impacted your life?
M: I don't really think about it that way. Taking care of older people has always come naturally to me. I took care of your Abuelo, and now Abuela needs more help. At the same time, I'm not able to automatically have Abuela live in our home, like Rufina did. It just isn't practical anymore – everyone's working, there isn't someone at home all the time. I'd rather have Abuela live somewhere she can be safe and taken care of, even if that isn't our home.