PHI's Top 21 Moments from 2021
December 1, 2021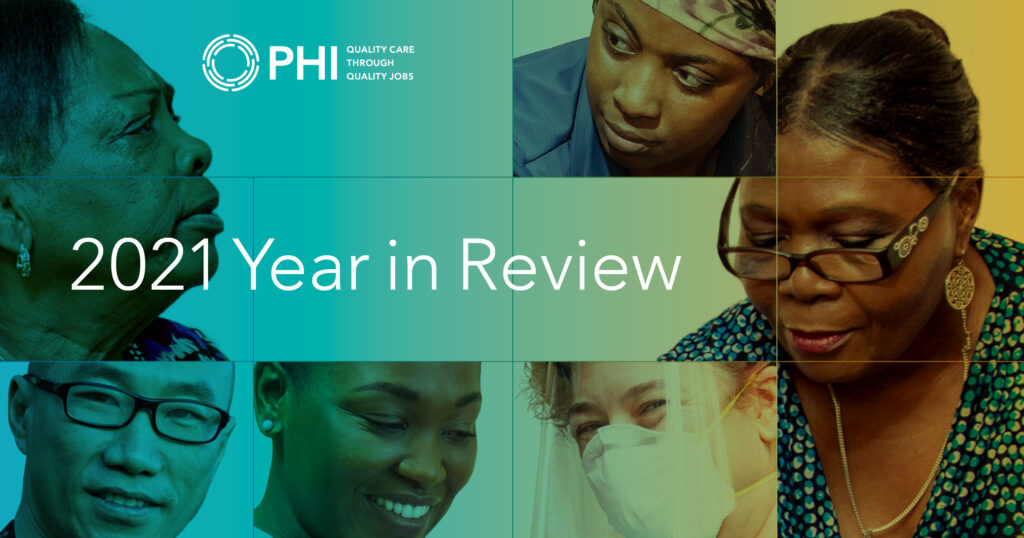 2021 has been a profound year for direct care workers filled with ongoing challenges and new opportunities.
Foremost for these workers has been the COVID-19 crisis, which has exacerbated recruitment and retention challenges among this workforce, making it even more difficult for older adults and people with disabilities to access quality care.
At the same time, President Biden and his administration have proposed the most significant funding investment in direct care job quality in recent history, one that inches closer to reality every day. Already, many states have proposed robust measures for the direct care workforce in their proposed spending plans under the American Rescue Plan Act—another critical funding vehicle for these workers.
In this context, PHI continues to play a leading role in strengthening the direct care workforce through our research, advocacy, and workforce innovations—rooted in a 360-degree perspective on the long-term care field.
Here are the top 21 moments for PHI in 2021.
1. CARING FOR THE FUTURE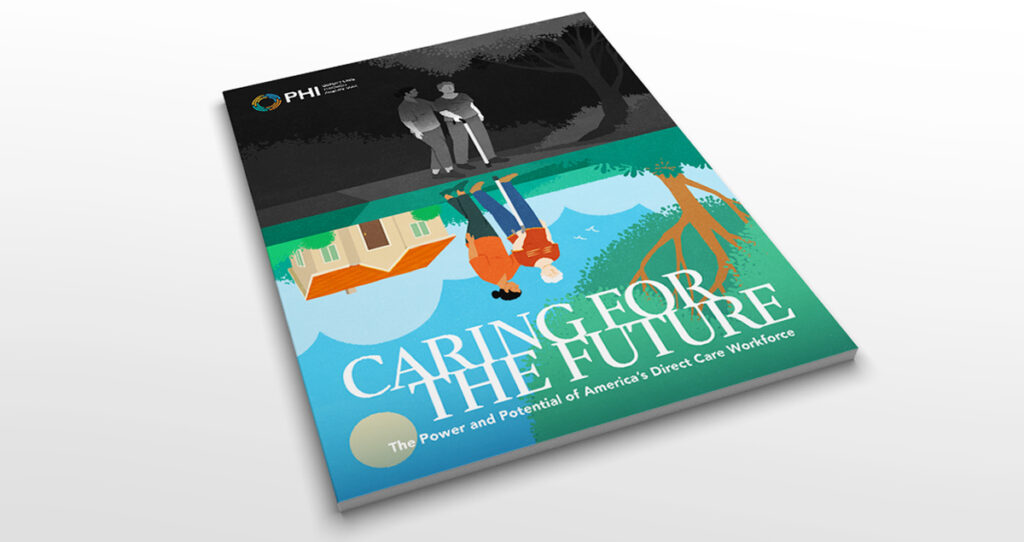 In anticipation of a new president, in January we released Caring for the Future: The Power and Potential of America's Direct Care Workforce. This signature report—published in several segments throughout 2020—provides an in-depth analysis of the direct care workforce, including key challenges and an extensive slate of recommendations for policy, practice, and research. Later this year, the report and campaign won a 2021 Communicator Award for Excellence in the category of social responsibility campaigns.
2. RESPONDING TO COVID-19
As COVID-19 entered its second year, PHI continued to support providers and inform the policy discourse regarding direct care workers and the ongoing pandemic. Nationally, we monitored the federal and state policy landscape, providing recommendations to help our country respond to this health crisis. As one example, we worked with coalitions in key states to advocate for direct care workforce measures in their state's proposed spending plans under the American Rescue Plan Act. In New York City, we designed and delivered various specialty trainings to over 600 home care workers, which included COVID-19 safety and stress management training. We also supported providers nationally in managing the challenging but necessary transition to online and hybrid modes of training delivery.
3. ESSENTIAL JOBS, ESSENTIAL CARE™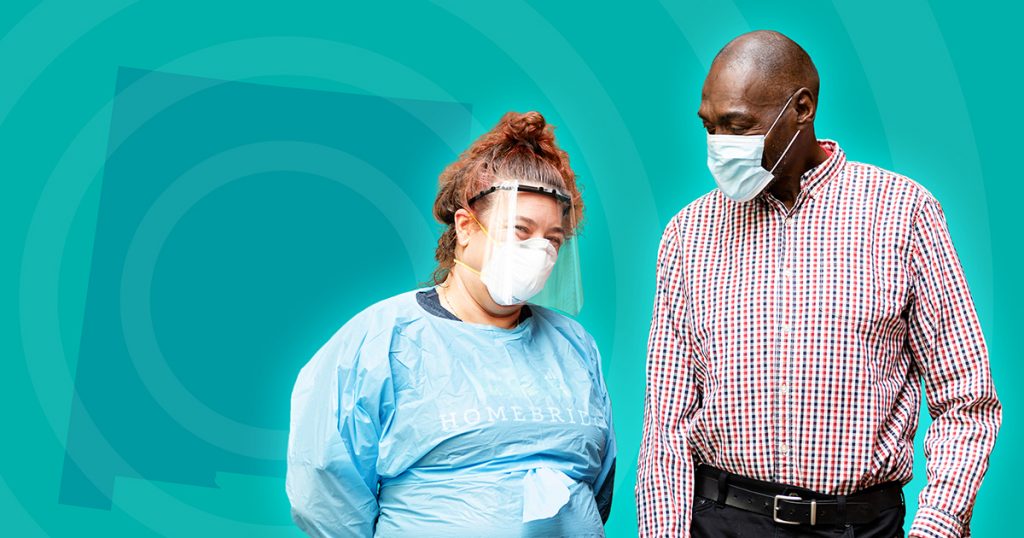 In February, as part of our Essential Jobs, Essential Care multi-state advocacy initiative, we co-hosted virtual statewide convenings on the direct care workforce in Michigan, New Mexico, and North Carolina, in partnership with IMPART Alliance, the New Mexico Caregivers Coalition, and the North Carolina Coalition on Aging, respectively. PHI also worked with these coalitions to develop multi-year advocacy roadmaps, submit comments on their states' American Rescue Plan Act spending plans, and much more. We also added two states to the initiative—New Jersey and New York—and will continue expanding this initiative across the country.
4. Direct Care WORKERS & FAMILY CAREGIVERS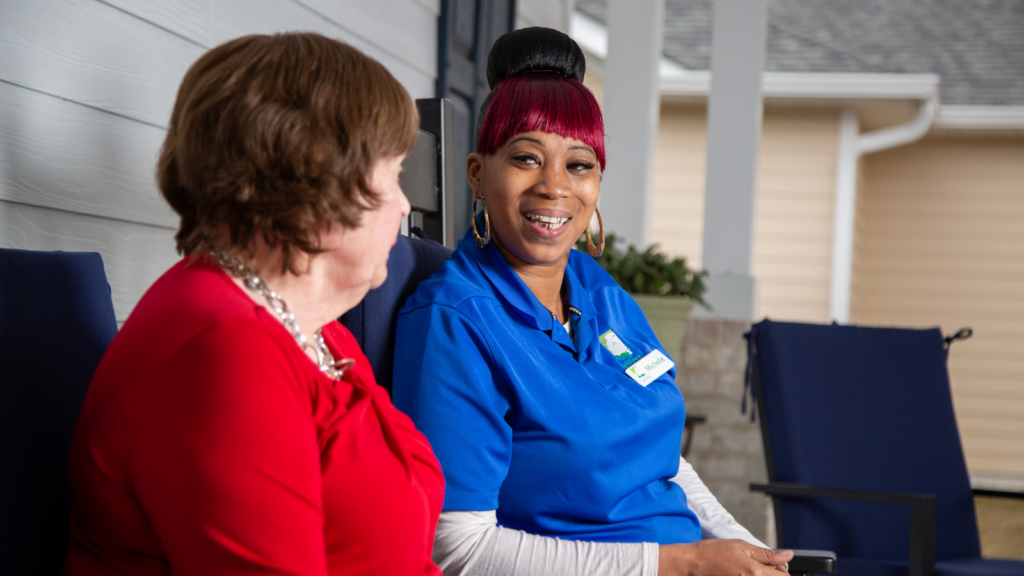 In 2021, we advanced our partnership with Florida State University to develop a training curriculum on fostering communication and collaboration between home care workers and family caregivers. This project includes a five-module training for dyads comprised of direct care workers and family caregivers with case scenarios and examples customized to the participating home care agencies. To support dissemination, we facilitated a "train-the-trainer" session for home care agency educators, which are currently preparing to deliver the five-module training either in-person or online.
5. CREATING ADVANCED ROLES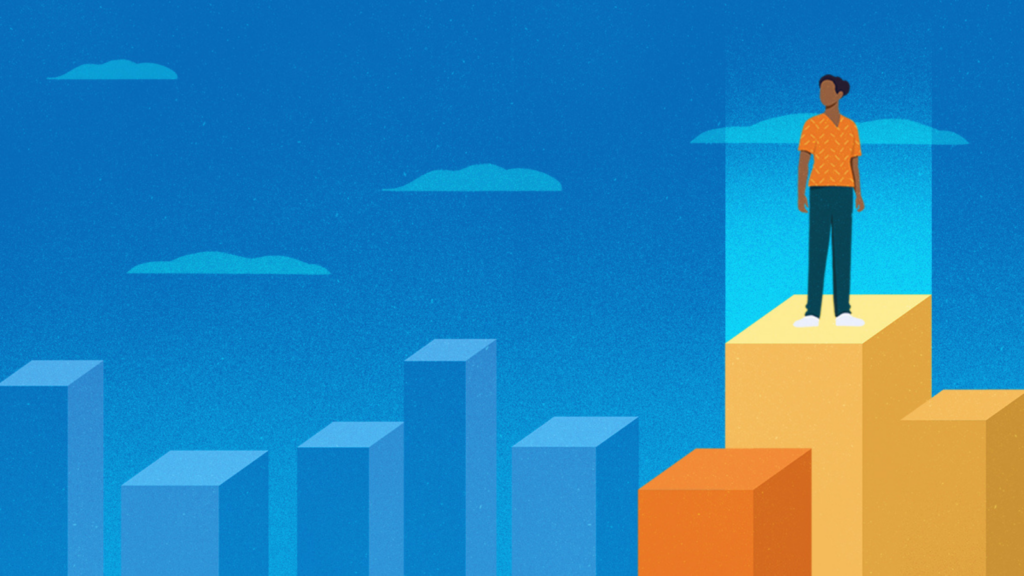 This year, in our longstanding effort to promote advanced roles in home care, we made headway in three states. First, we continued pilot-testing our Care Integration Senior Aide training at two participating sites in New York; evaluations for these pilots showed increased knowledge of advanced home care topics and general satisfaction with the curriculum among workers. Second, in the Midwest, PHI created three advanced direct care roles: a "Dementia Specialist" training and advanced role for personal care aides at Lori Knapp Companies in Wisconsin; a "Whole-Person Wellness Specialist" advanced role at Knute Nelson in Minnesota; and a "Transition Specialist" advanced role with Trinity Health Senior Communities in Michigan, which included developing an implementation guide and toolkit to disseminate the model across Trinity's post-acute care settings. Evaluations of these three roles showed positive feedback on the training and workers' abilities to successfully apply what they learned to their everyday work.
6. CALIFORNIA'S MASTER PLAN FOR AGING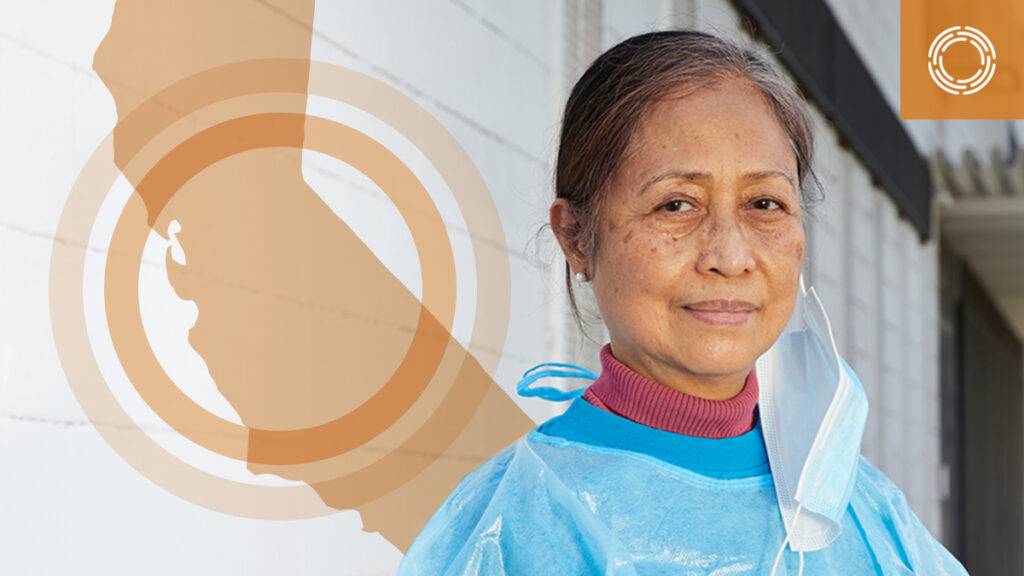 To support California in implementing a bold new Master Plan for Aging, PHI issued a report in March describing how the Master Plan supports this workforce, highlighting where it incorporates the recommendations from its LTSS Subcommittee, and proposing how this plan could be strengthened to improve direct care jobs. As well as including a primary goal of improving direct care jobs, the plan contains other opportunities for these workers related to training, advanced roles, recruitment and retention, COVID-19 responses, stakeholder groups and task forces, dementia care competency, data collection, and inclusion and equity, among others.
7. SHIFTING THE PUBLIC NARRATIVE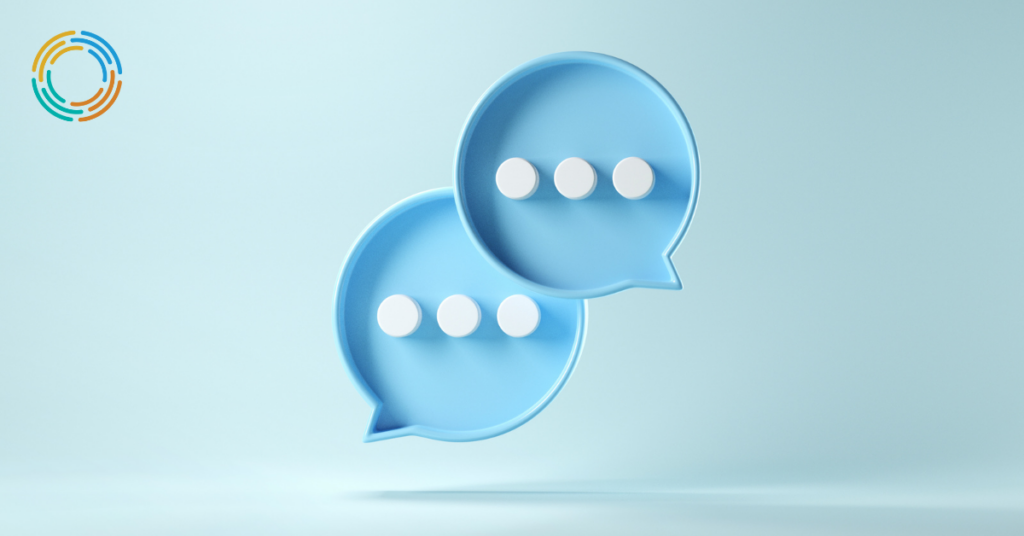 For years, PHI has been a highly trusted source for reporters, helping them understand and frame the many issues facing these workers and the complexities of the long-term care system in different parts of the country. This year, we continued to shape media coverage in outlets such as The New York Times, NBC News, the Boston Globe, NPR, Vox, Bloomberg News, MarketWatch, and industry outlets such as Home Health Care News, McKnight's Senior Living, and Modern Healthcare, among many others. Changing policy and practice relies on moving the public to support this workforce, and we are honored to have played our part.
8. CONCRETE FEDERAL GUIDANCE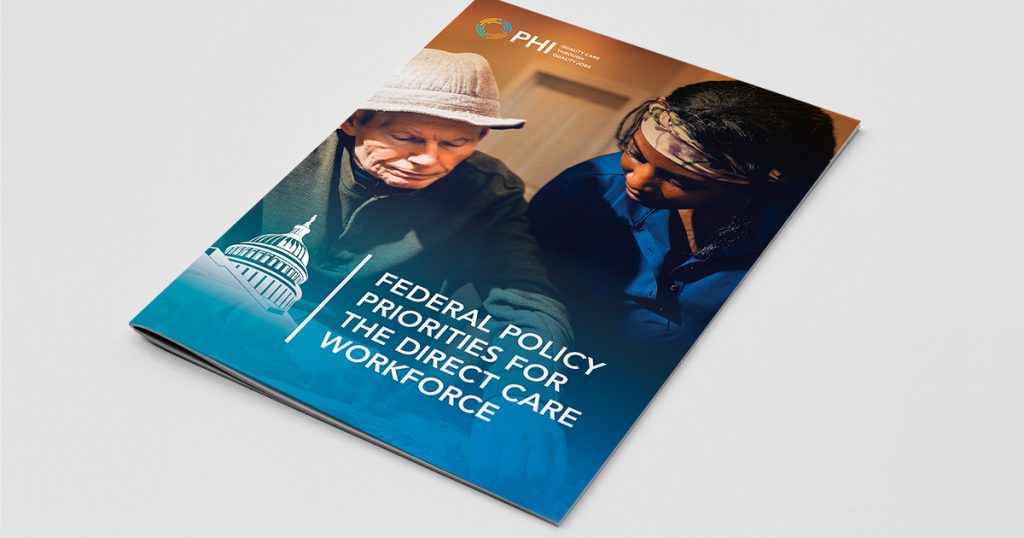 The Biden-Harris administration has opened numerous opportunities to strengthen the direct care workforce. Capitalizing on this reality, PHI issued a report in July outlining nearly 50 concrete recommendations for the White House, Congress, and key federal departments and agencies. The report's recommendations span eight issue areas critical to this job sector, including financing, compensation, training, workforce interventions, data collection, direct care worker leadership, equity, and the public narrative.
9. CONGRESSIONAL HEARING
This year, direct care workforce issues have received significant federal attention, as evidenced by President Biden's Build Back Better framework and numerous bills introduced throughout the year that aimed at strengthening this workforce. In July, PHI's Vice President of Policy Robert Espinoza and Cooperative Home Care Associates' Home Health Aide Zulma Torres testified before the U.S. House Committee on Education and Labor on the need to improve funding nationwide for workforce interventions in direct care. Among other issues, the hearing focused on the importance of enacting the Direct CARE Opportunity Act, which would provide more than $1 billion in direct care workforce recruitment, retention, and advancement interventions. In November, Congress included this funding measure in the final Build Back Better package.
10. DIRECT CARE WORKER Stories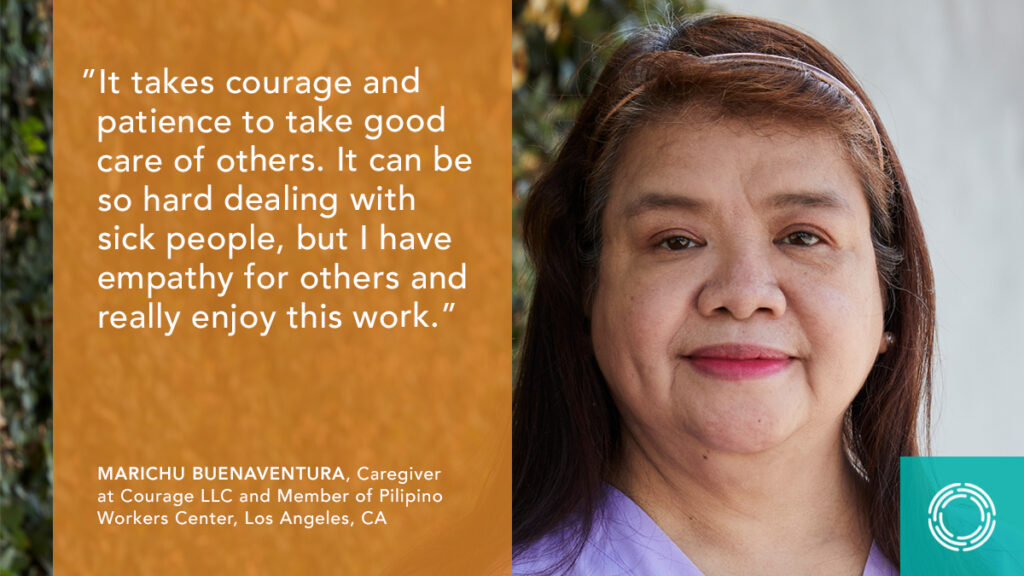 Direct care workers have always been the best experts on this workforce. In this spirit, PHI's National Direct Care Worker Story Project aims to enhance the visibility of this workforce, amplify workers' voices, and draw on their unique wisdom to inform policy and practice. In addition to featuring worker stories throughout many of our publications, this year we partnered with the ICA Group to collect various worker stories in California to share their thoughts on the importance of worker-led models of long-term care service delivery and how the state can best support them. We also connected direct care workers to various major news outlets; in September, Next Avenue published an in-depth story featuring three workers from our project.
11. ARIZONA Caregivers STUDY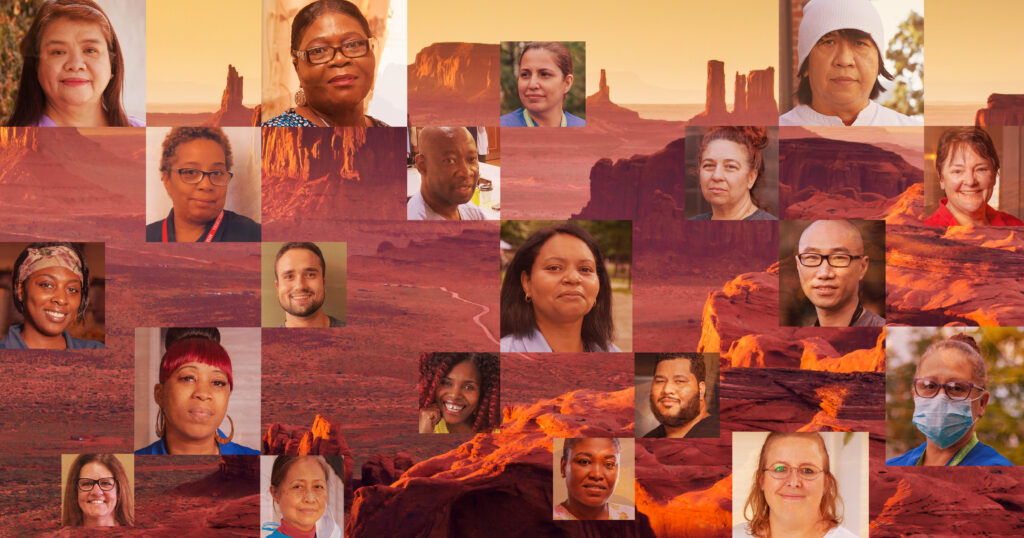 In August, PHI released a research report detailing findings from a survey of more than 4,000 paid caregivers throughout Arizona, including direct support professionals, paid family caregivers, and other home care workers. The survey, which was conducted in partnership with four managed care organizations in Arizona, examined factors that influence the intent of paid caregivers to stay in their jobs or leave, among other areas. The findings revealed various factors that influence workers' longevity in the field, including compensation, training, supervision, opportunities for advancement, support during the COVID-19 pandemic, and more.
12. ANNUAL Direct Care Worker FACTS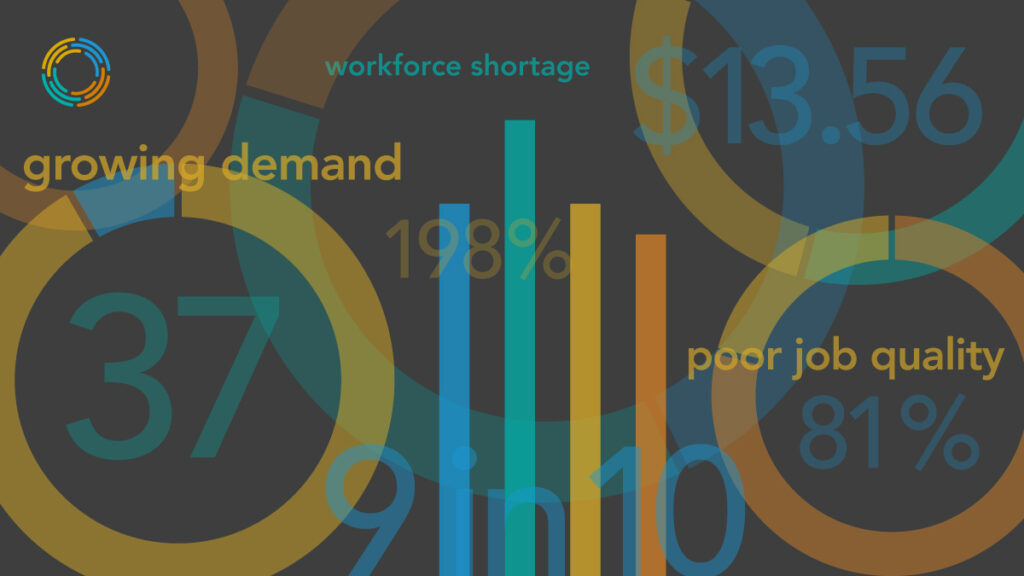 In September, we released our annual research on direct care workers—a resource we've provided since 2006 to help various leaders understand how direct care jobs have changed over time and to inform interventions in this job sector. This year's research showed that the direct care workforce expanded rapidly over the last decade, growing from 3.1 million workers in 2010 to 4.6 million in 2020. Additionally, long-term care employers will need to fill 7.4 million job openings in direct care from 2019 to 2029, which includes new jobs and jobs that must be filled when existing workers transfer to other occupations or exit the labor force.
13. WEBINAR SERIES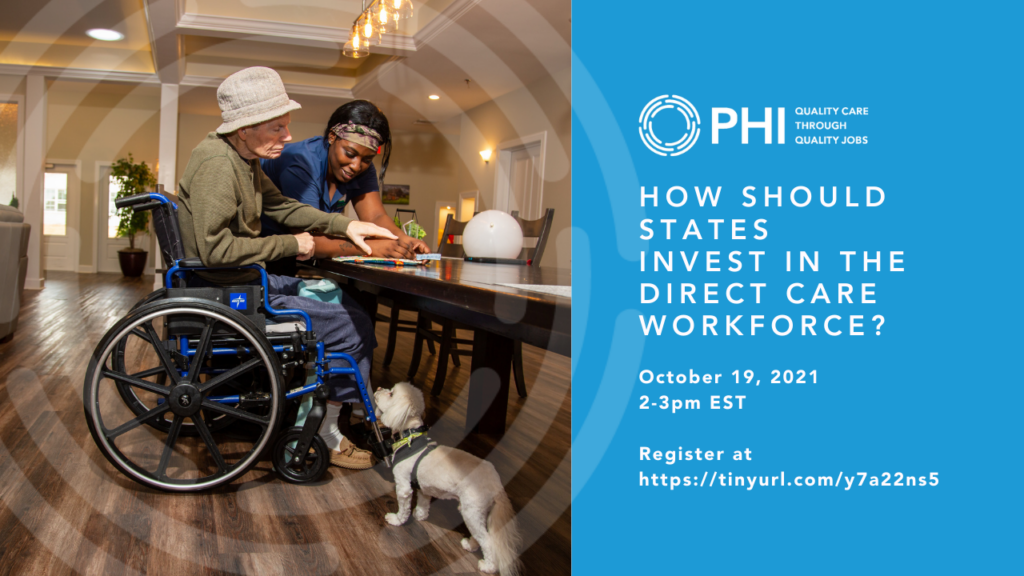 In October, PHI launched a new webinar series to bring experts from various fields together to discuss the most significant issues facing the direct care workforce. The first webinar answered the question: how precisely should states invest new federal funding to improve these jobs? It featured two state officials describing how their states aim to invest in the direct care workforce and two national experts explaining the current federal landscape and how other states have addressed direct care workforce challenges. Future webinars in 2022 will examine equity issues and new studies on direct care workers, among other topics.
14. COVID-DISPLACED WORKERS STUDY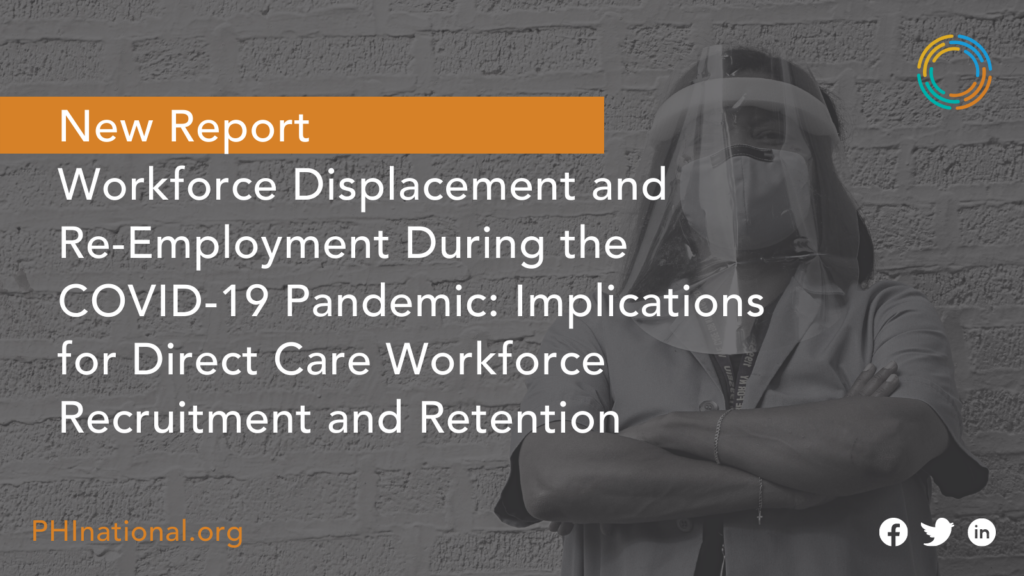 In October of this year, in collaboration with the Health Workforce Research Center on Long-Term Care at the University of California, San Francisco, we released a new study examining workforce displacement and re-entry during the COVID-19 pandemic among direct care workers and workers from similar entry-level occupations, such as food services, administrative support, and others. The purpose of this study was to understand whether and how new workers were recruited into direct care jobs during this crisis, which has implications for how the long-term care field can and should fill job openings in the future.
15. Supporting Government Leaders
Recognizing that new federal funding will allow states to deepen their investment in the direct care workforce, PHI bolstered its services for state leaders in October. Our workforce research and strategy services provide public and private sector leaders with research and analysis to inform local, state, and federal strategies. PHI's services in this area include surveying the direct care workforce, developing recruitment and retention strategies, advising the creation of a data collection infrastructure, launching social media public education campaigns, and much more.
16. Designing Workforce Interventions
As long-term care providers grapple with unprecedented recruitment and retention challenges in direct care, and as federal and state governments have begun dedicating more funding to this cause, PHI widely promoted its workforce innovation services throughout the country in November. This service line—built on decades of working closely with diverse providers in various parts of the country—supports employers and other stakeholders with designing training programs, creating advanced roles, strengthening coaching and communication training, producing comprehensive job quality assessments, crafting recruitment strategies, and more.
17. ELEARNING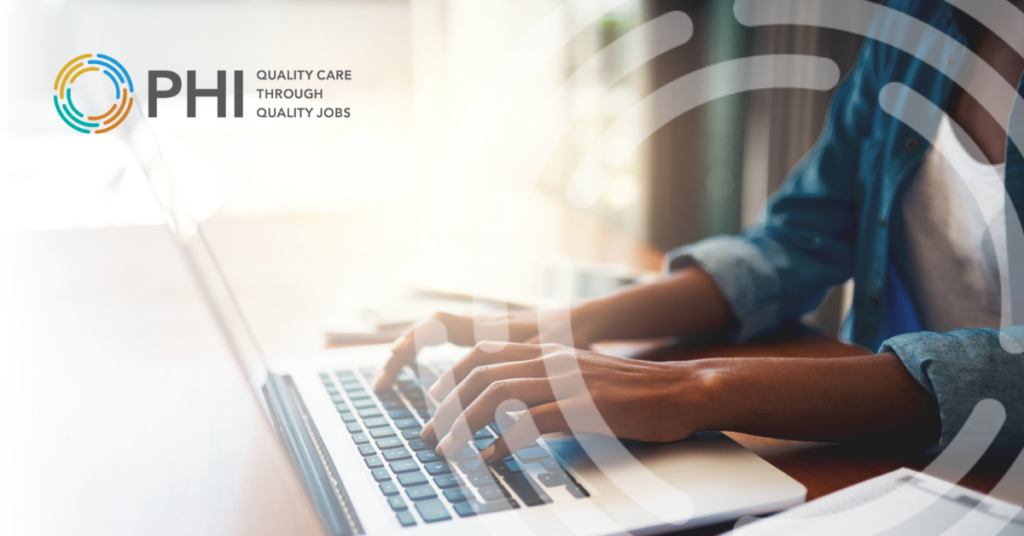 In November, we partnered with the American Health Care Association and National Center for Assisted Living (AHCA/NCAL) to announce a new eLearning course for long-term care providers nationwide that we co-developed to improve supervisory skills in those settings. Created by PHI, this 4-hour PHI Coaching Supervision® eLearning course equips long-term care supervisors with the skills to succeed in their roles. The course is available to AHCA/NCAL's membership through their internal learning management system, but PHI is available to partner with other long-term care providers as well to implement eLearning approaches related to coaching supervision and other workforce-related topics.
18. NEW YORK ADVOCACY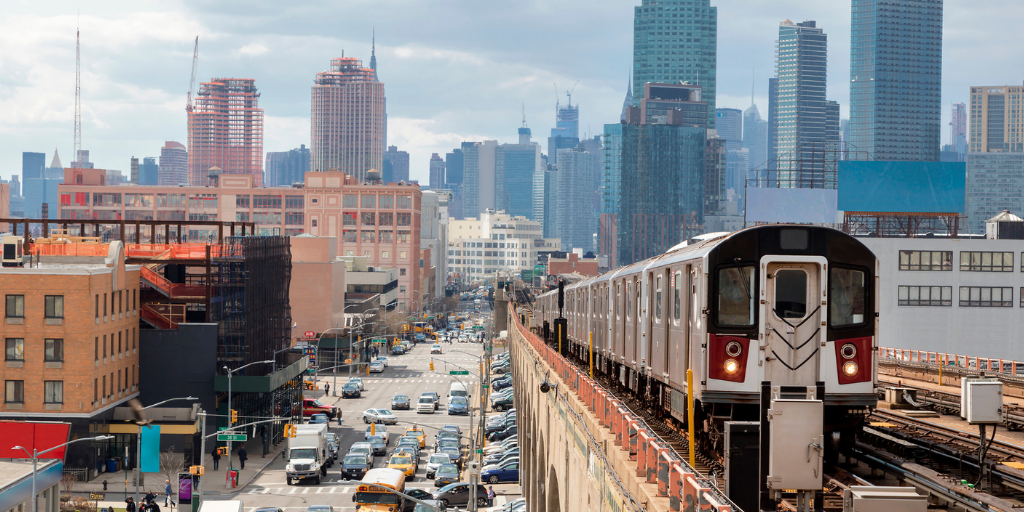 PHI has helped shape the New York State and City policy landscape on direct care workers since our founding 30 years ago, and this year was no different. As the state grappled with COVID-19 and the long-standing challenges facing long-term care and the direct care workforce, we provided critical analysis on a range of policy proposals and participated in coalitions at the city and state levels. In July, PHI's Hannah Diamond testified at a New York State Senate hearing on the long-term care workforce to encourage legislators to improve job quality for direct care workers across settings. Following the hearing, PHI met with a range of stakeholders to build our advocacy agenda and identify opportunities for issue-specific collaborations.
19. Educating THE FIELD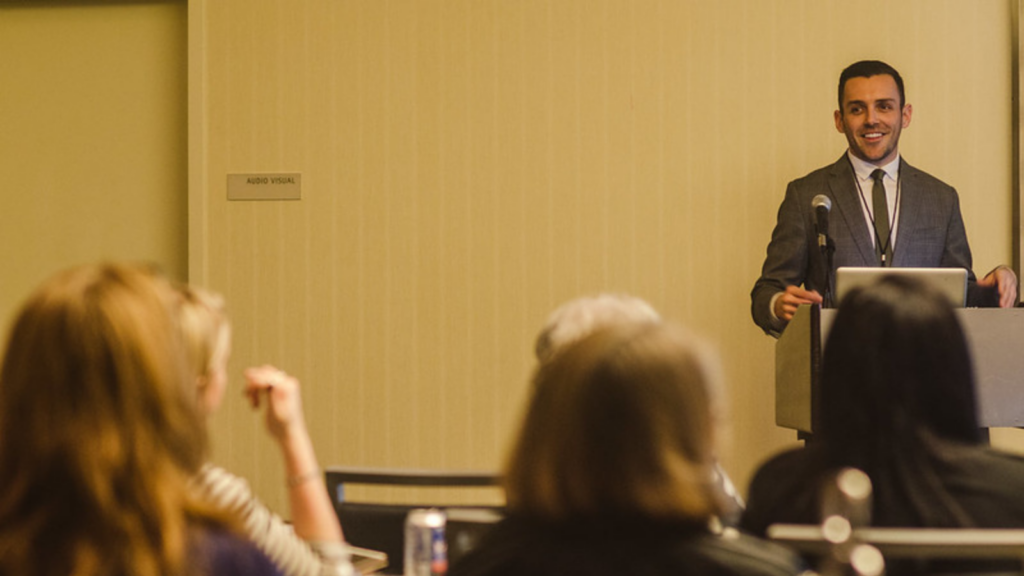 PHI's 360-perspective on the direct care workforce has helped inform both policy and practice for three decades. This year, we continued to bring our extensive experience on the direct care workforce to conferences, briefings, and meetings in various fields, including aging, workforce, long-term care, and disability rights, among others. Four conference presentation highlights from this year include: the AHCA/NCAL Convention & Expo in National Harbor, MD; the National Skills Coalition's Healthcare Industry Recovery Panel federal meetings (virtual); the American Society on Aging's On Aging virtual conference; Consumer Voice's virtual conference; and ADvancing States' Home and Community-Based Services Conference in Baltimore, MD.
20. PHI'S 30TH ANNIVERSARY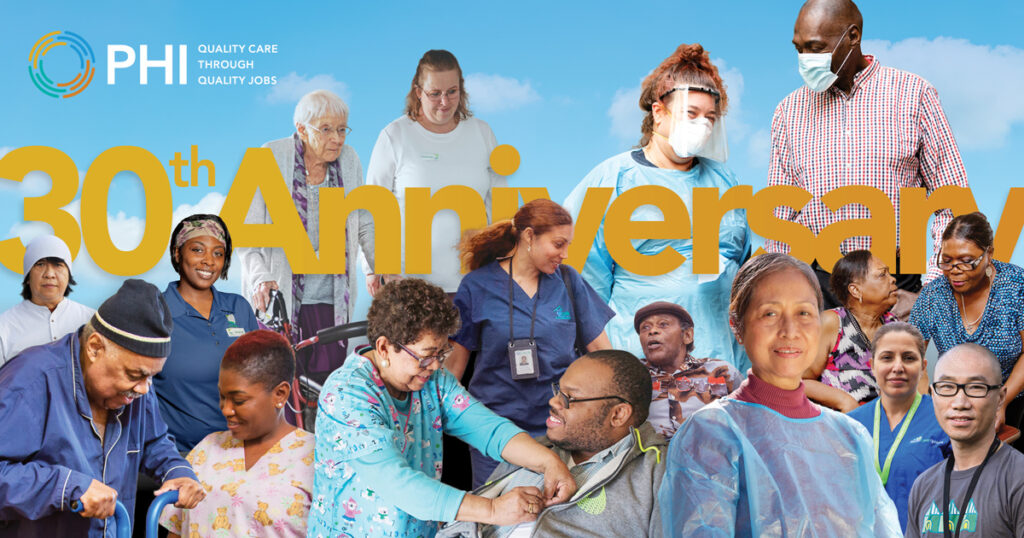 In 2021, we celebrated 30 years of moving the needle for the direct care workforce through our research, advocacy, and workforce innovation. The historic progress made this year at the federal level results from decades of advocacy by numerous organizations and individuals. We're proud to have been at the center—and often in the lead—of this political change. We also thank the many leaders who have worked with us to strengthen the direct care workforce and ensure that older adults and people with disabilities receive the care they deserve.
21. BUILD BACK BETTER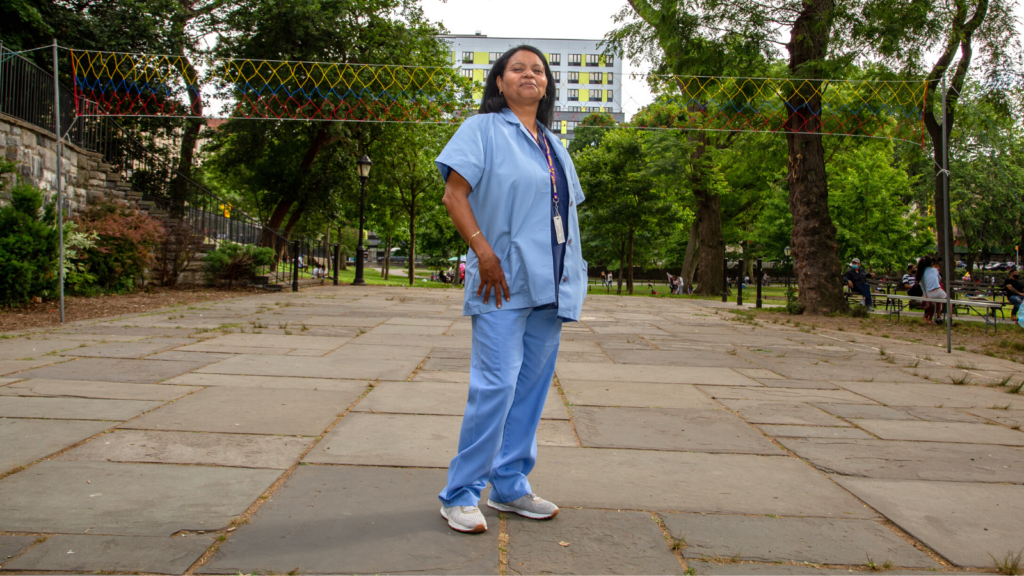 Perhaps no other moment in 2021 could have as much of a profound impact as President Biden's Build Back Better framework, which has been moving steadily through Congress this fall. The plan would significantly expand home and community-based services and improve direct care jobs, and invest billions of dollars in other areas critical to these workers such as paid leave, workforce development, equity, and much more, Historic moments like this arrive because of the hard work done by many advocates over the decades—and advocacy movement we are proud to have led along with many other organizations.
Here's to a remarkable 2021 and the exciting possibilities in the new year!
A note of gratitude: Thank you to the many funders, supporters, clients, and organizations that worked with us to make 2021 an incredible year for our organization and sector. And thank you to the 4.6 million direct care workers who every day deliver critical services to millions of older adults and people with disabilities.