PHI's Top 22 Moments from 2022
December 1, 2022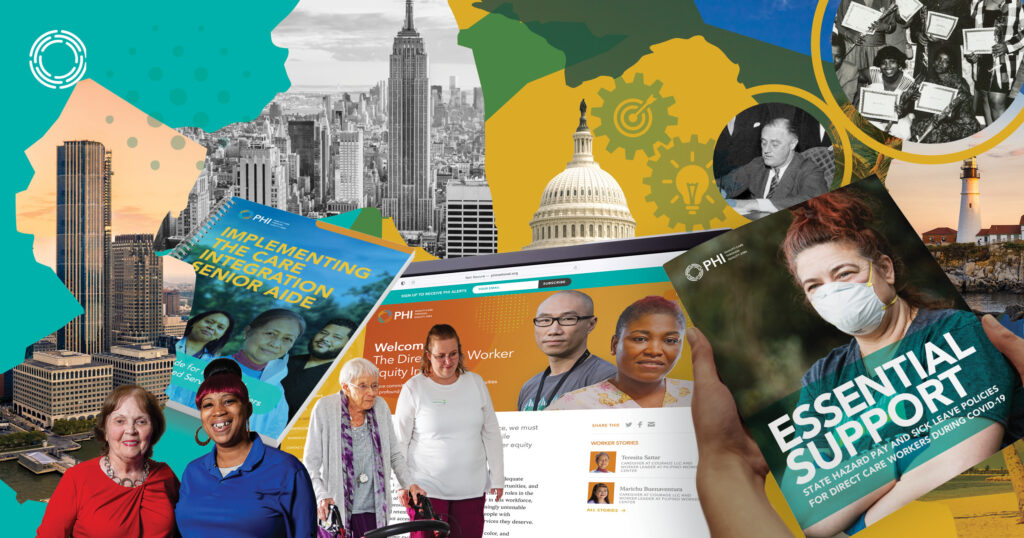 The interest in direct care workers seems to grow every year–and 2022 was no different. Policy and industry leaders alike have been rightfully calling attention to the staffing crisis in this job sector and its severe impact on older adults and people with disabilities.
And yet, despite the growing salience of these issues, direct care jobs remain poor in quality—even as demand for these workers continues to grow. The typical direct care worker still struggles to make ends meet and often leaves this field for a better, more stable job.
What will it take to transform this essential workforce?
In this context, PHI continues to play a leading role in strengthening the direct care workforce through our research, advocacy, workforce innovations, and public education—rooted in a 360-degree perspective on the long-term care field.
Here are the top 22 moments for PHI in 2022, listed in chronological order.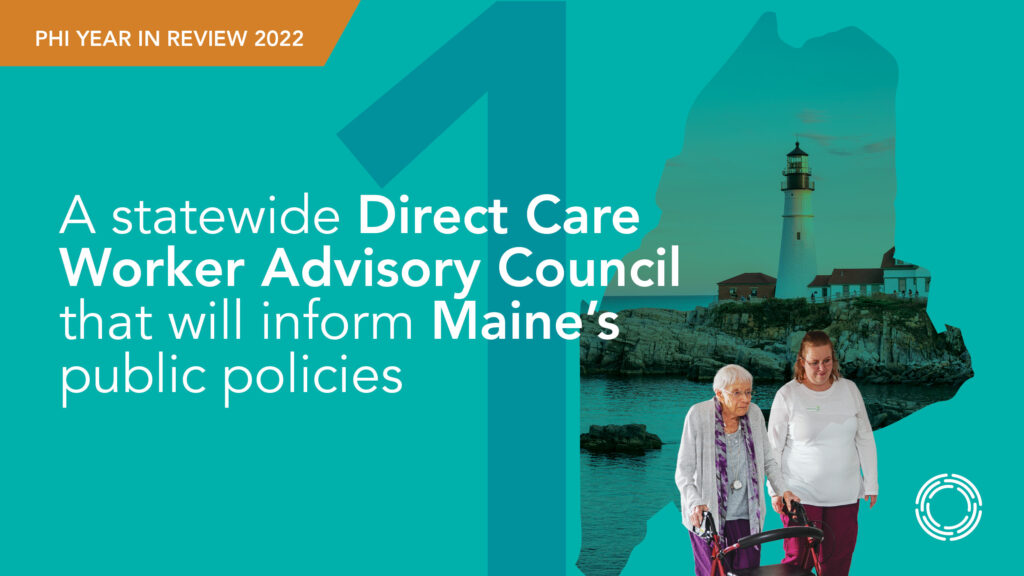 1. DIRECT CARE WORKER ADVISORY COUNCIL
In January, PHI worked with the Maine Long-Term Care Ombudsman Program to develop a statewide Direct Care Worker Advisory Council that will inform policy and legislation to help strengthen the direct care workforce throughout Maine. We provided technical assistance to the program's leadership to help recruit and screen a diverse slate of Council members. We also developed an online leadership and communication training for Council members, which included four two-hour training sessions led by PHI staff.

2. DIRECT CARE WORKER EQUITY INSTITUTE
For a workforce mainly comprised of women, people of color, and immigrants, systemic racism and gender injustice—among other inequities—are at the core of poor direct care job quality. In February, PHI responded to these inequities by launching the Direct Care Worker Equity Institute. Over time, to build this institute, we will compile and create an array of resources and interventions on equity and the direct care workforce, including publications, original studies, advocacy tools, workforce interventions, and more.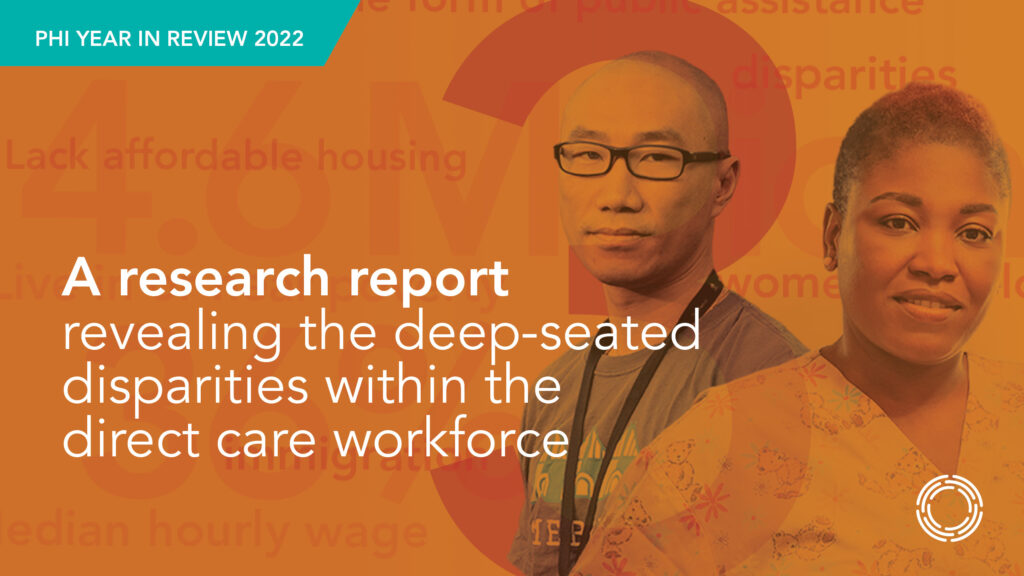 3. NEW RESEARCH ON DISPARITIES
To support the launch of our new equity institute, PHI released new research in February examining gender and racial disparities within the direct care workforce. Among other findings, the research showed that women of color are a large and growing segment of the direct care workforce. Additionally, we found that Black/African American workers have the lowest family income and Hispanic/Latino workers have the lowest annual earnings of any racial or ethnic group within the direct care workforce.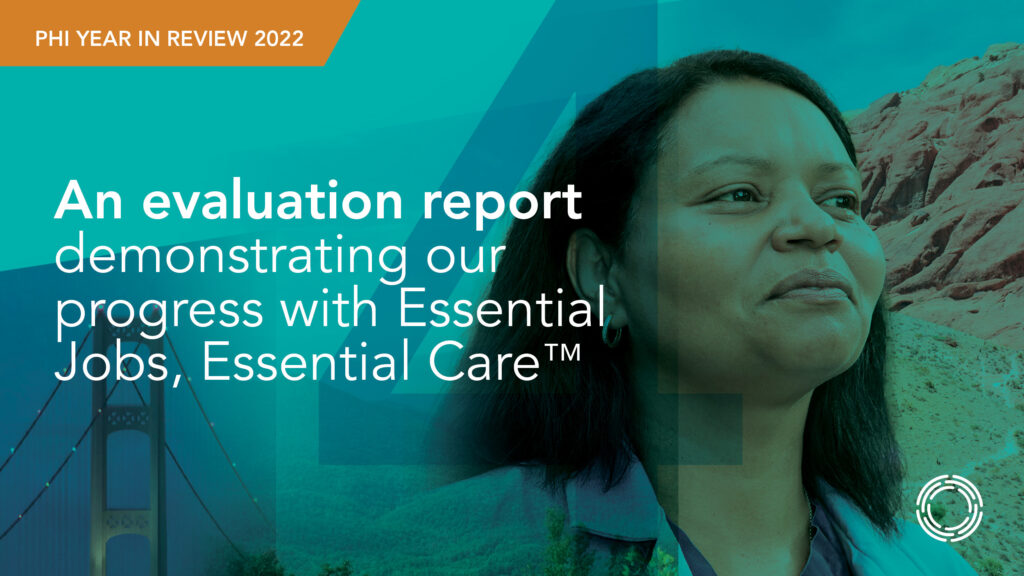 4. EVALUATING PROGRESS IN STATES
Advocates across sectors are coming together like never before to promote policy reforms that improve direct care jobs. In response to this moment, PHI launched a multi-state advocacy initiative—Essential Jobs, Essential Care™ (EJEC)—in 2020 focused on the direct care workforce in Michigan, New Mexico, and North Carolina. In March of this year, we released a progress report on this initiative, which showed that it has been successfully advancing crucial policy goals while effectively building the capacity of our partners to advocate on this issue.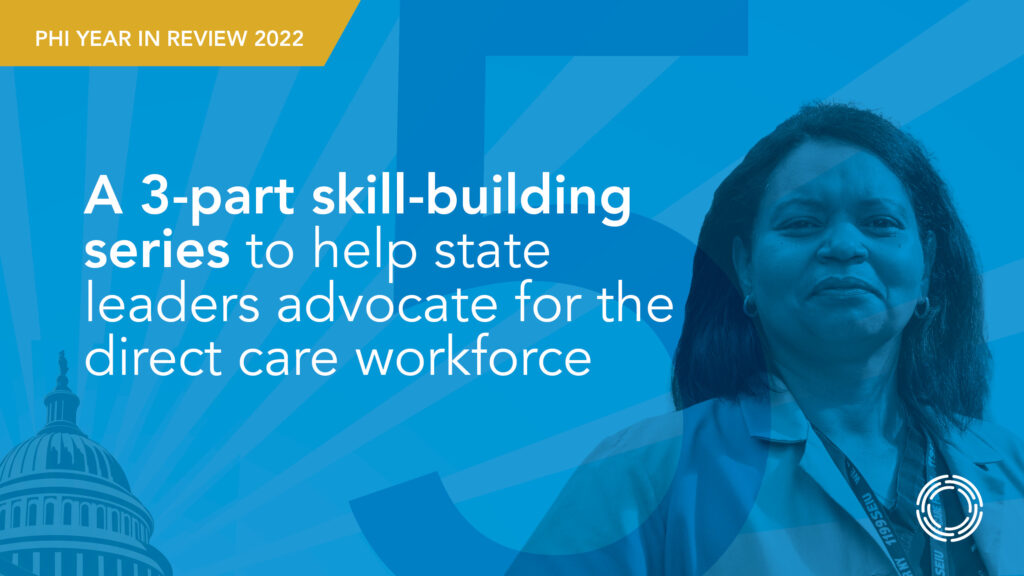 5. ADVOCACY SKILLS SERIES
In early March, as part of our Essential Jobs, Essential Care initiative, PHI partnered with Michigan's IMPART Alliance, the New Mexico Caregivers Coalition, and the North Carolina Coalition on Aging to co-host a series of virtual advocacy skill-building sessions for their coalition members. The purpose of these sessions was to support the coalitions in effectively advocating for the direct care workforce, based on their identified learning needs. The three sessions focused on convening and mobilizing coalitions, communicating care work, and building effective advocacy relationships.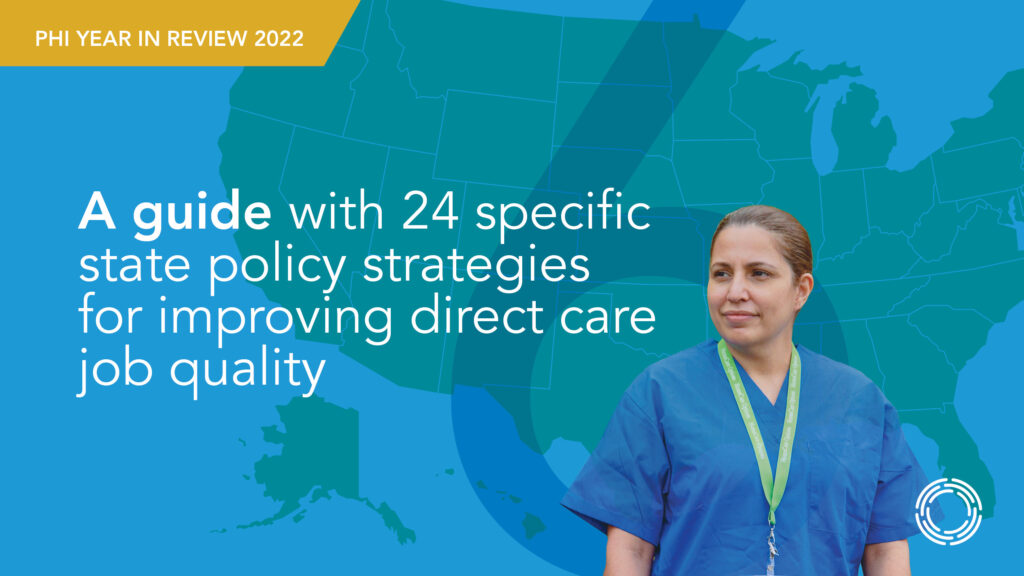 6. STATE POLICIES GUIDE
Increasingly, states are taking action to improve direct care jobs and improve care for everyone. To support states in this effort, PHI released a guide in April that compiles 24 specific policy strategies—with concrete examples—for improving direct care job quality and stabilizing this workforce. The strategies are organized according to the eight comprehensive solutions outlined in PHI's signature 2021 report, Caring for the Future: The Power and Potential of America's Direct Care Workforce.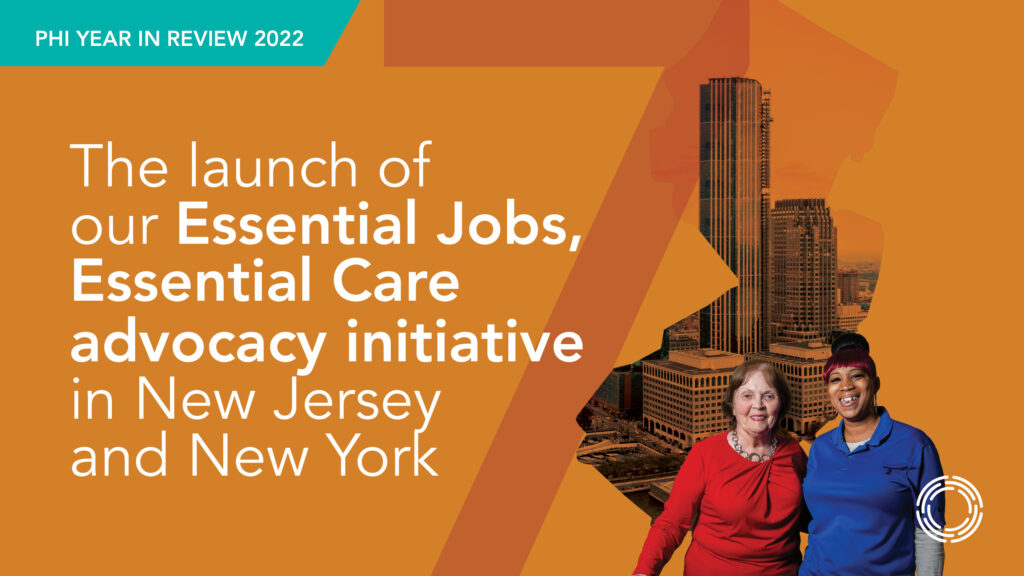 7. NEW JERSEY & NEW YORK ADVOCACY
In May, New Jersey became the fifth state in our Essential Jobs, Essential Care (EJEC) initiative, joining Michigan, New Mexico, North Carolina, the first three states, and New York, the fourth state (which joined EJEC this year and will host its inaugural meeting in December, after this article is published). After years of working in New Jersey to advance both practice and policy interventions, including hosting a virtual convening of state leaders and issuing a report in fall 2020, we are thrilled to work with New Jersey Advocates for Aging Well and a broad network of state leaders and advocates to make a difference for this workforce. At our inaugural New Jersey EJEC convening in May, over 60 coalition worked collaboratively over two days to identify policy priorities for the coalition's work. Guided by the initiative's advisory group, three working committees are now building an advocacy roadmap that will define the work ahead.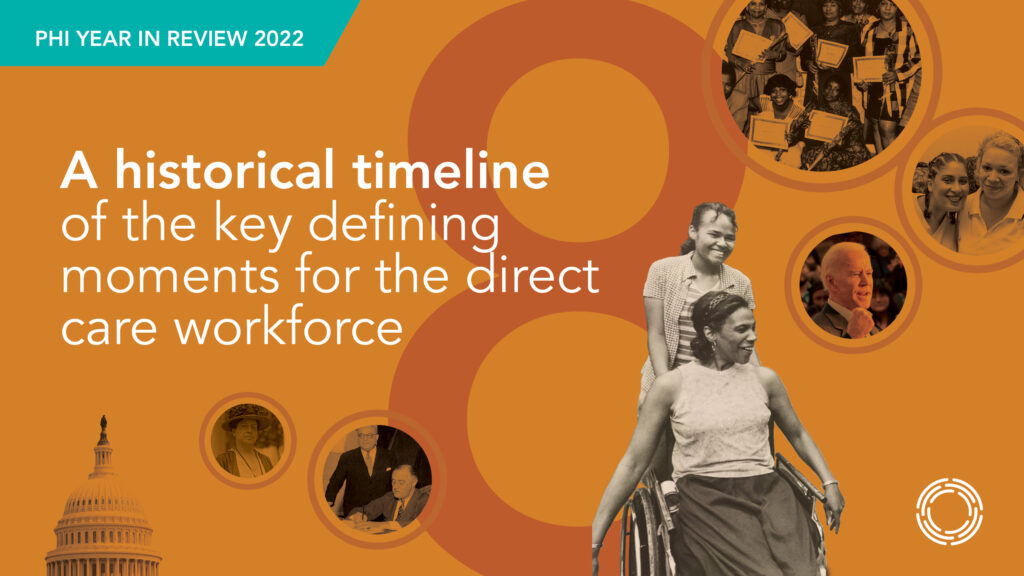 8. A DIRECT CARE WORKFORCE MOVEMENT TIMELINE
In May, PHI released a timeline of the key historical moments that have defined the direct care workforce movement. As with the wins of other social movements, today's direct care policy victories are due to decades of hard-fought struggles led by workers, older adults, people with disabilities, and a growing constellation of advocates. Together, these leaders have dared to imagine a new reality for the direct care workforce and then helped make it happen.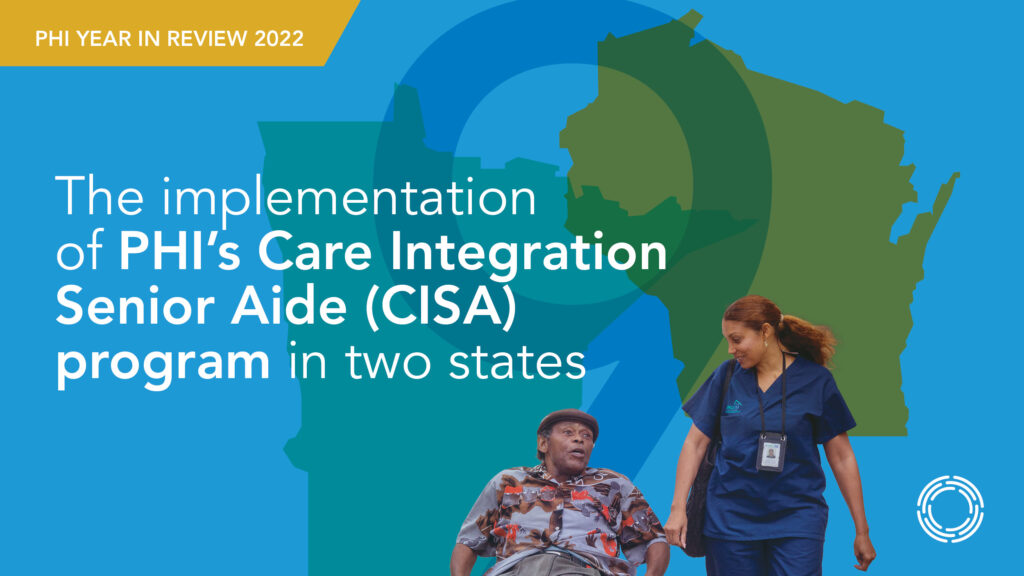 9. PROMOTING CARE INTEGRATION
In June, PHI began working with providers in Minnesota and Wisconsin, including Inclusa, a managed care organization in Wisconsin, to implement PHI's advanced role for home care workers, the Care Integration Senior Aide (CISA)—and measure the return on investment of this program. These types of roles are important because a growing body of evidence shows that care integration models in home care settings can improve recruitment and retention and decrease costly emergency department visits and hospitalizations.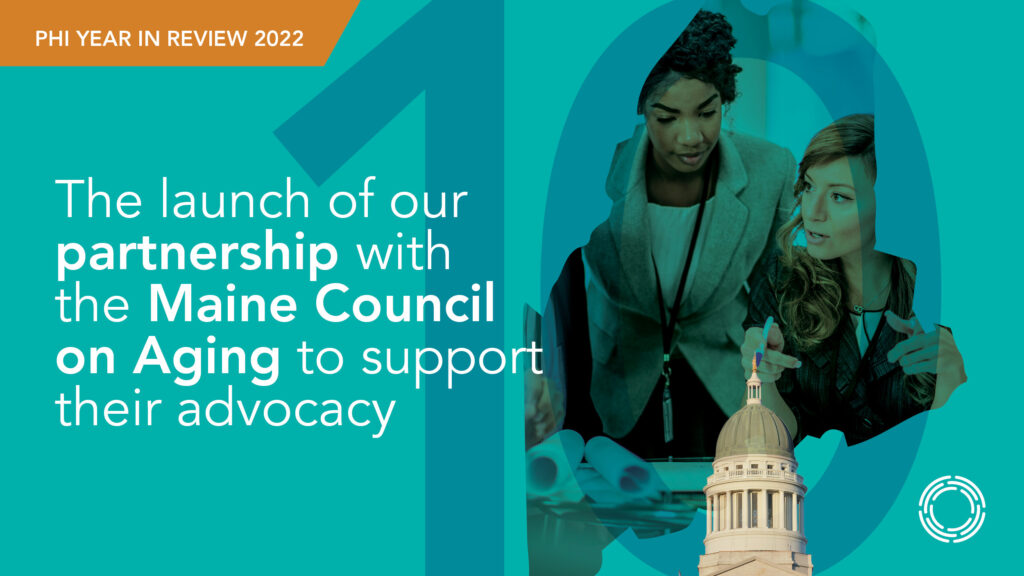 10. SUPPORTING MAINE'S ADVOCACY INITIATIVE
In July, PHI began working with the Maine Council on Aging to support their advocacy efforts, the Maine Access to Care Initiative, which building on their years of successes. As part of this project, we will support the Council's leadership team, help develop an action and advocacy roadmap, advise their strategic messaging and reports, share policy and practice strategies from other states, and more. Maine is the sixth state to join PHI Essential Jobs, Essential Care initiative, albeit under new program design for this initiative.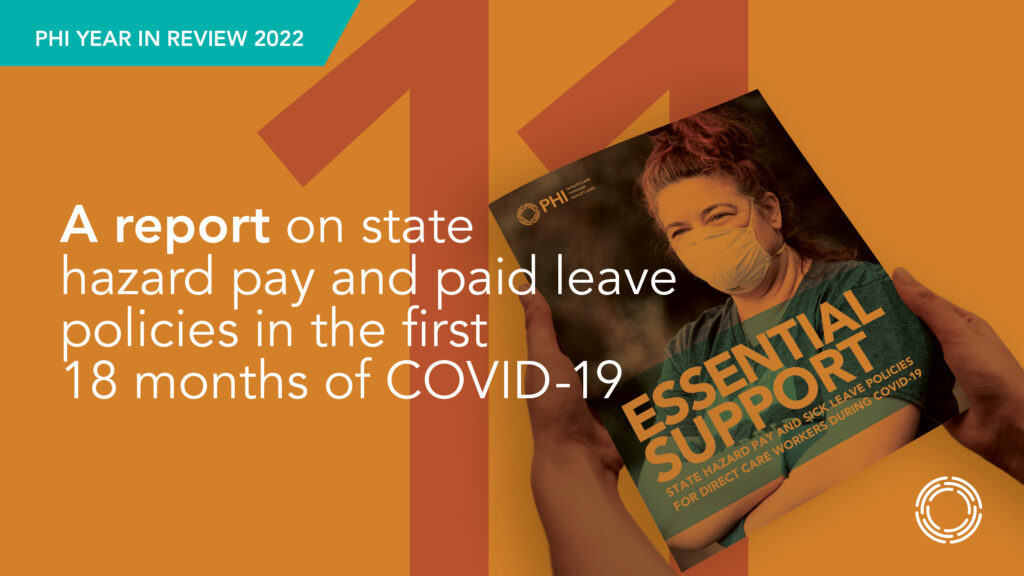 11. STATE HAZARD PAY & PAID LEAVE
According to a research report we released in July, in the first 18 months of the COVID-19 pandemic, 17 states implemented at least one hazard pay policy, and four states implemented a new paid sick leave policy that supported direct care workers through the COVID-19 pandemic. This report offered a range of crucial insights that can help our country navigate this and future pandemics. However, the most concerning finding was that 26 states did not have any hazard pay or paid leave policies in place to benefit direct care workers during the first waves of the pandemic.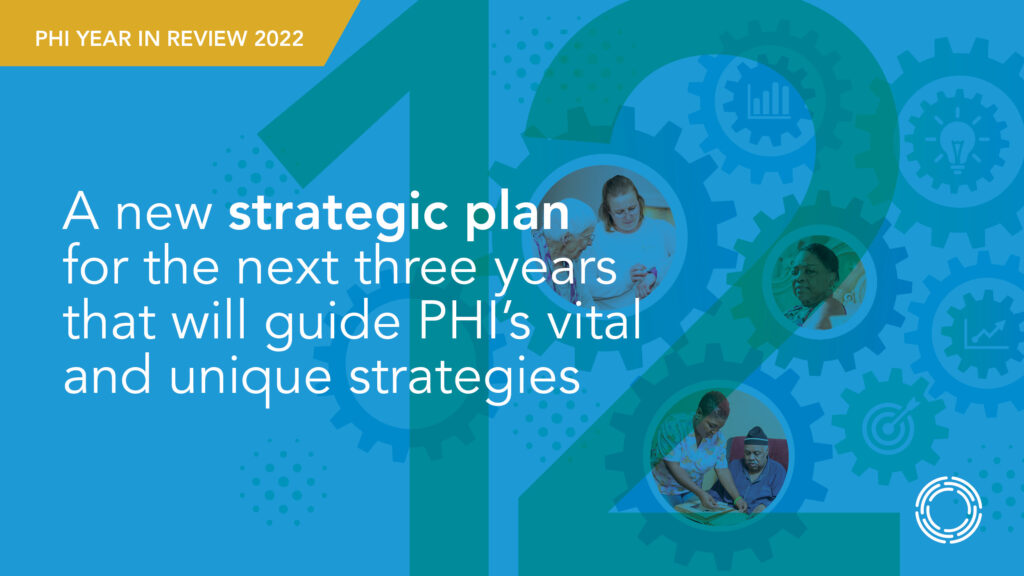 12. A NEW STRATEGIC PLAN
For PHI, the current moment provides ample opportunities and profound questions about our future direction. The COVID-19 crisis, growing advocacy and industry momentum nationwide, and the need for real-world solutions have all magnified the importance of our mission. In August, we released our new strategic plan for the next three years, which responds assertively to this context. We look forward to continuing to steer the national conversation on direct care workers, in close collaboration with leaders across the country.
13. DEI EMPLOYER ASSESSMENT
Given the diversity of the direct care workforce, it is critical that long-term care employers foster environments where all workers are included and treated equitably. In July, PHI began working with Knute Nelson, a home and community-based services provider in West Central Minnesota, to perform a training needs assessment that identified performance and organizational gaps related to its diversity, equity, and inclusion (DEI) goals. Through extensive staff engagement and data collection, PHI identified a series of findings and recommendations, rooted in PHI's Five Pillars of Direct Care Job Quality, to strengthen DEI throughout the organization.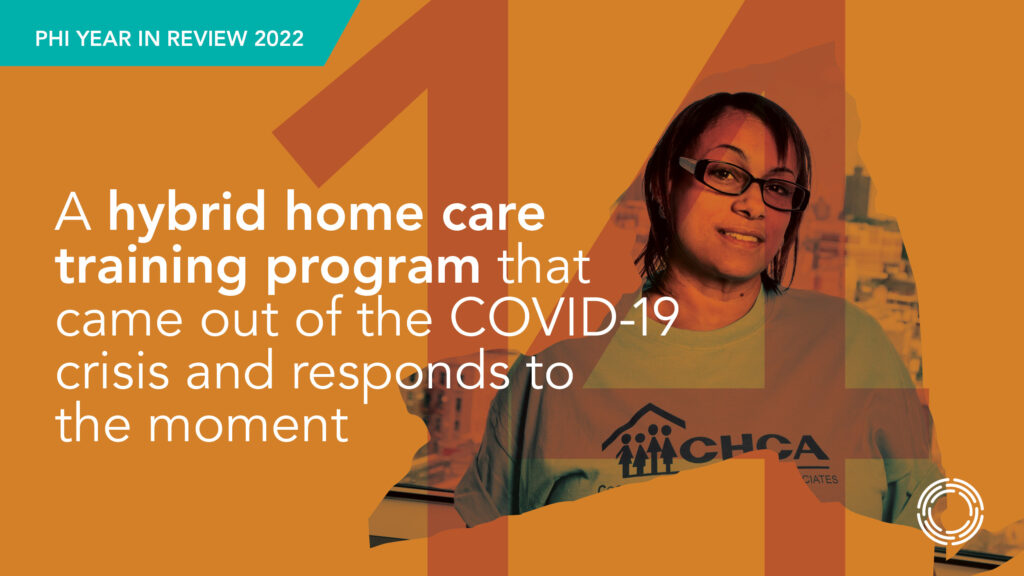 14. HYBRID HOME CARE TRAINING
The COVID-19 pandemic has made delivering in-person, entry-level training to direct care workers increasingly challenging. In response to this problem, in August, PHI partnered with Cooperative Home Care Associates in New York City to launch a hybrid home care training program (i.e., one where the knowledge-based lessons are virtual, while the practical, hands-on training sessions continue to be taught in-person). This new approach translates PHI and CHCA's existing training—an 16-day, 112-hour certification program—into a hybrid format, using adult learner-centered teaching principles and focusing on building person-centered relationships with clients. The approach also includes instructor-led online material, in-person demonstration labs, and asynchronous knowledge checks, among other elements.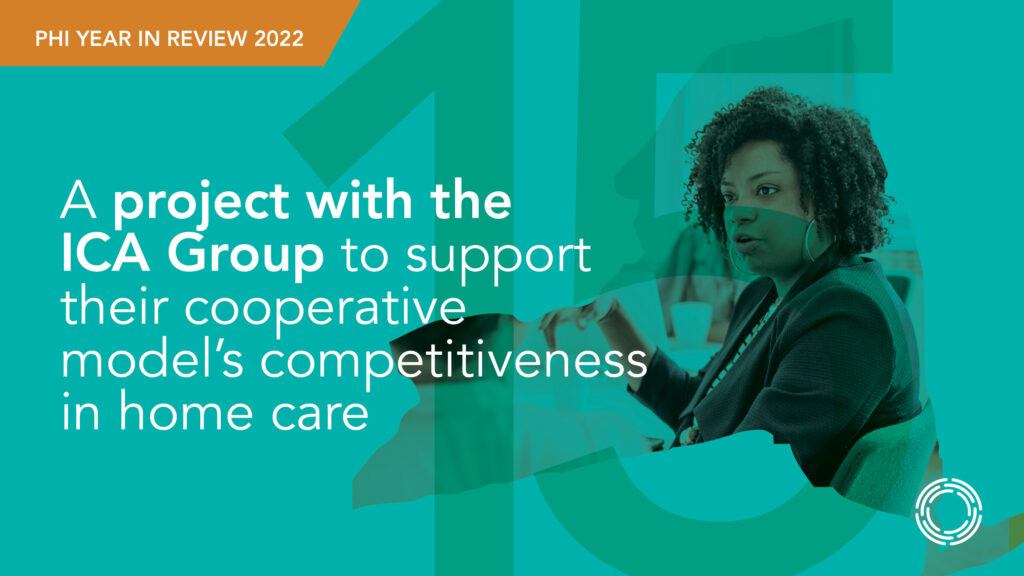 15. SUPPORTING WORKER COOPERATIVES
As worker-centered businesses, home care cooperatives have helped improve working conditions for home care workers nationwide while also improving care. PHI worked with the ICA Group—the oldest national organization dedicated to developing worker cooperatives—to conduct various focus groups with cooperative administrators and caregivers on their recruitment, retention, and training needs. In August, PHI produced a final report and recommendations that helped ICA understand which service lines are needed to support and strengthen the cooperative model's competitiveness within the home and community-based services market.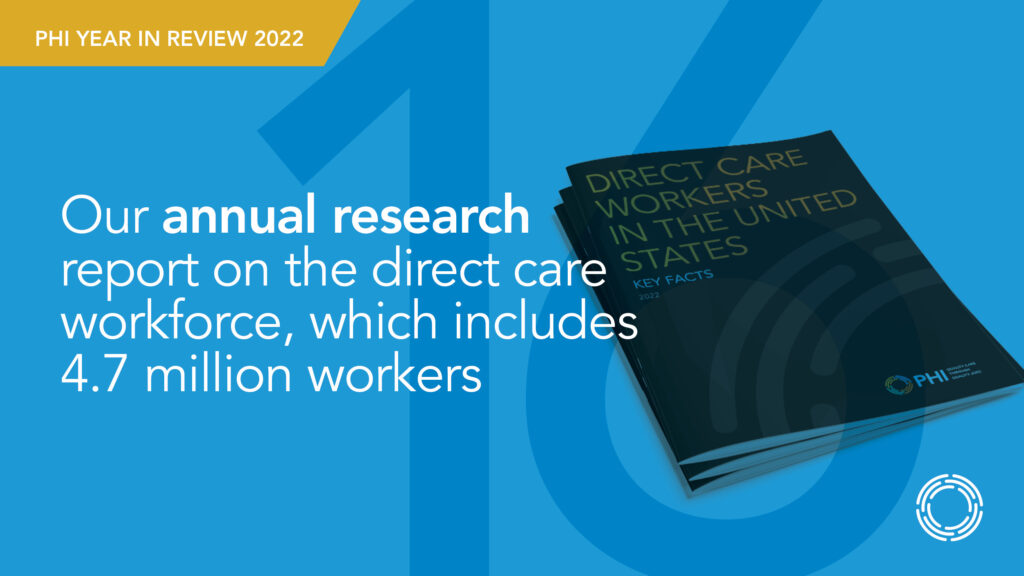 16. ANNUAL RESEARCH REPORT
Our annual research report on direct care workers provides essential data on this workforce, including its demographics, occupational roles, job quality challenges, and projected job openings. Released in September, this year's report confirms that the direct care workforce continues to be predominantly comprised of women, people of color, and immigrants. Additionally, among many other findings, the report showed that this workforce is expected to add an estimated 1.2 million new jobs from 2020 to 2030—more new jobs than any other occupation in the country.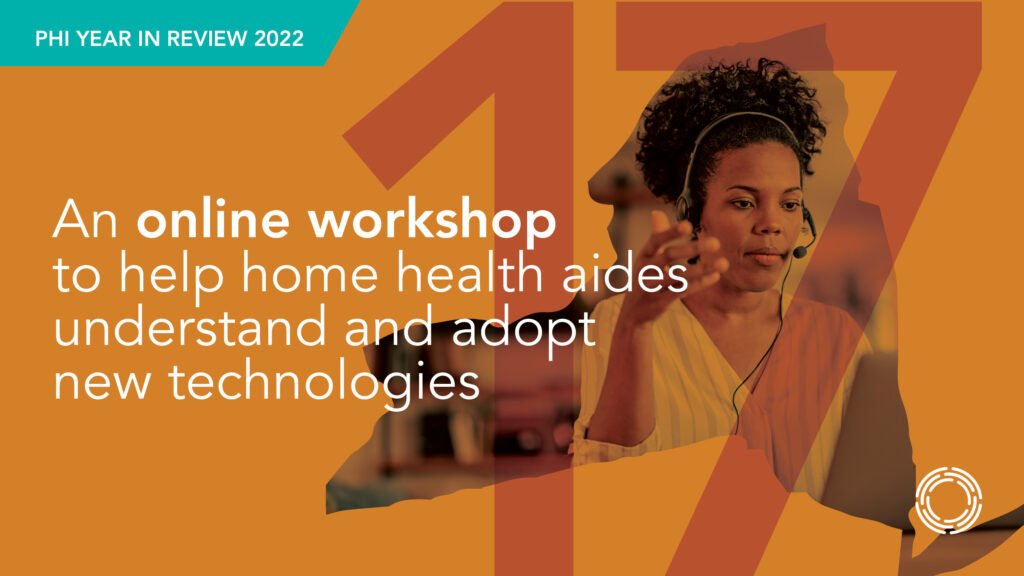 17. WORKERS & TECHNOLOGY
While home care workers often use technology to perform their jobs, many of them need help understanding and adopting these tech-based devices and platforms. In September, PHI partnered with JASA—a large, New York City-based aging services provider—to create a 90-minute online workshop focused on cultivating a "growth mindset" among home health aides related to learning and using new technology at work. Online registration fairs are being held throughout December, with training starting in early 2023.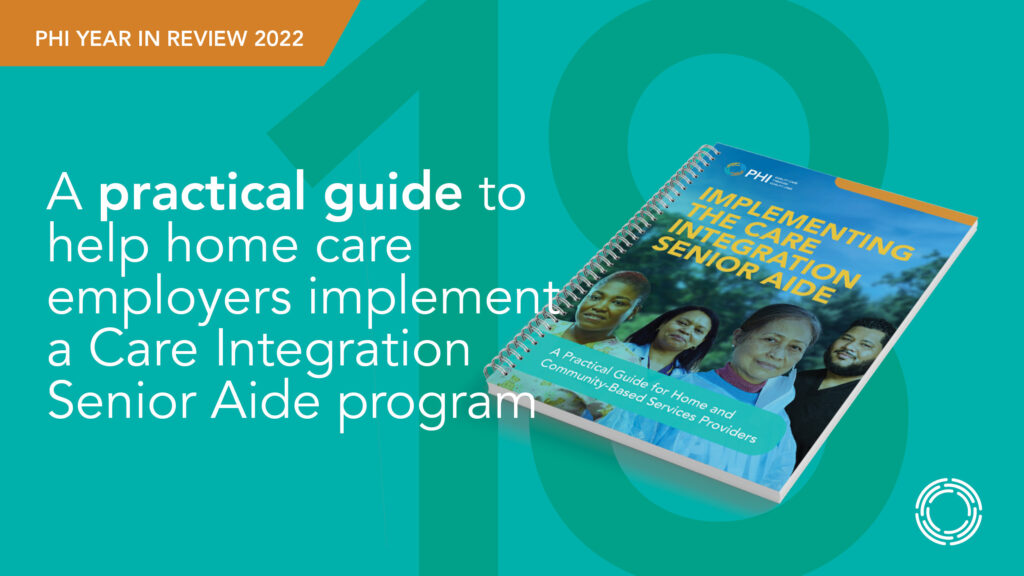 18. CARE INTEGRATION GUIDE
Recognizing that care integration models hold enormous promise for the home care sector, PHI released a guide in September to help home care employers implement a Care Integration Senior Aide program. This practical guide includes five steps for making a solid business case to sustain the program and various user-friendly tools and templates that individual home care providers can modify to align with their agency's structure and priorities.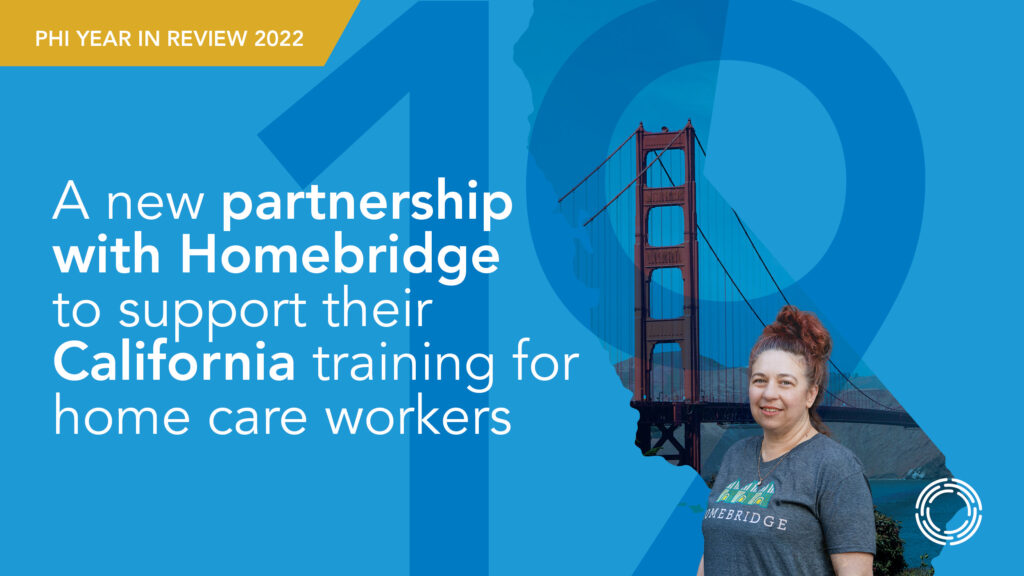 19. CALIFORNIA'S CAREGIVING WORKFORCE
In October, PHI announced our new partnership with Homebridge, which will help launch their In-Home Supportive Services Career Pathways Program in California. We will support their training efforts, providing training and career opportunities to approximately 550,000 IHSS providers statewide. This partnership also includes the Corporation for Supportive Housing, Futuro Health, and the Zen Caregiving Project.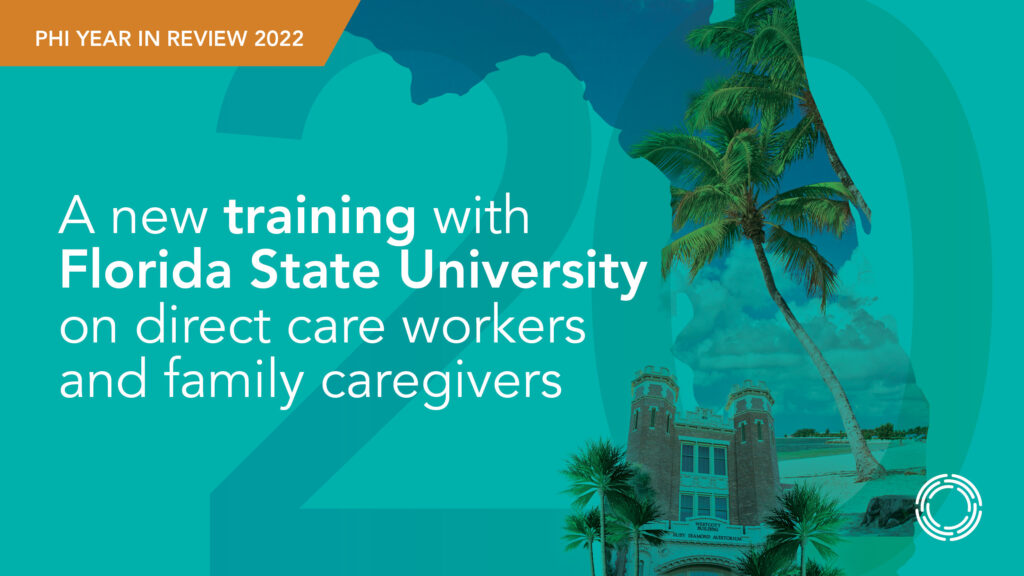 20. FAMILY CAREGIVERS & DIRECT CARE WORKERS
Since 2020, PHI has been working with Florida State University to better understand and support the relationship between direct care workers and family caregivers. As part of this partnership, we have developed training programs for this caregiving dyad that aim to improve person-centered care coordination and communication. In November, PHI delivered the first of three asynchronous training modules for direct care workers, which include case scenarios and examples customized to reflect the lived experiences of learners.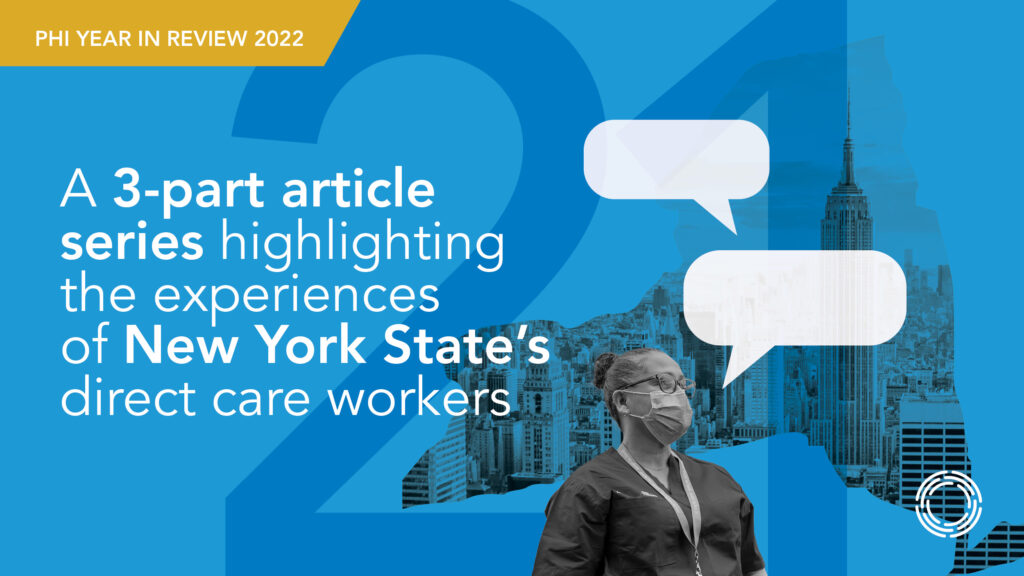 21. WORKER CONVERSATIONS
Despite their crucial wisdom, direct care workers are rarely formally asked to describe how their on-the-job experiences can improve their jobs and care for their clients—lessons that would help stabilize a precarious long-term care field. In November, PHI published a three-part article series with highlights from focus groups we held earlier this year with New York home care workers and residential care aides.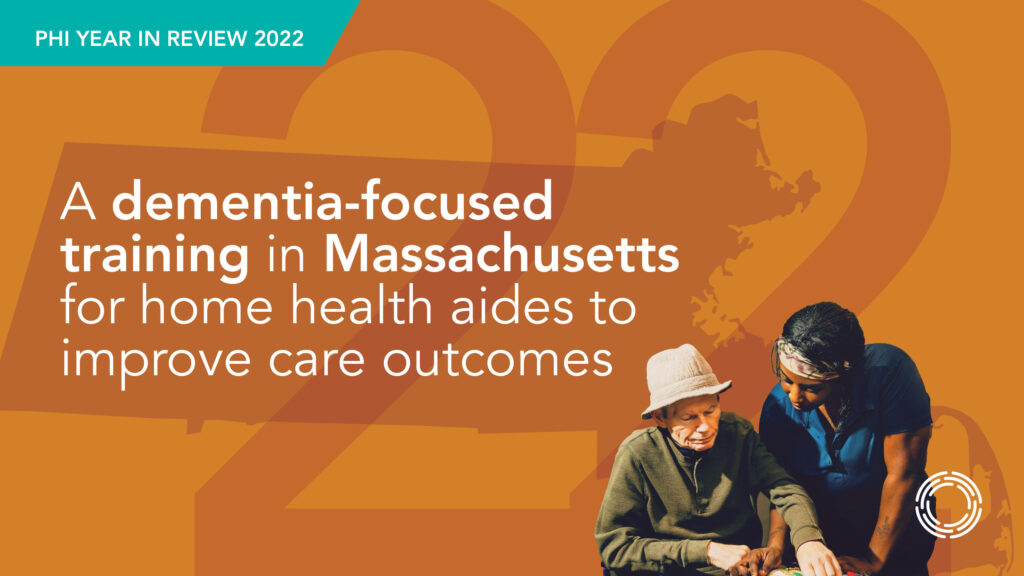 22. DEMENTIA TRAINING IN HOME CARE
In November, PHI finalized an eight-hour enhanced training for entry-level home health aides as a part of our work with the Caring for America's Aging initiative led by Massachusetts General Hospital. This training aims to improve care outcomes for people living with dementia while supporting their family caregivers. Specifically, we led the development of an eight-hour enhanced training for entry-level home health aides.