Recognizing Direct Care Workers as Climate Emergency First Responders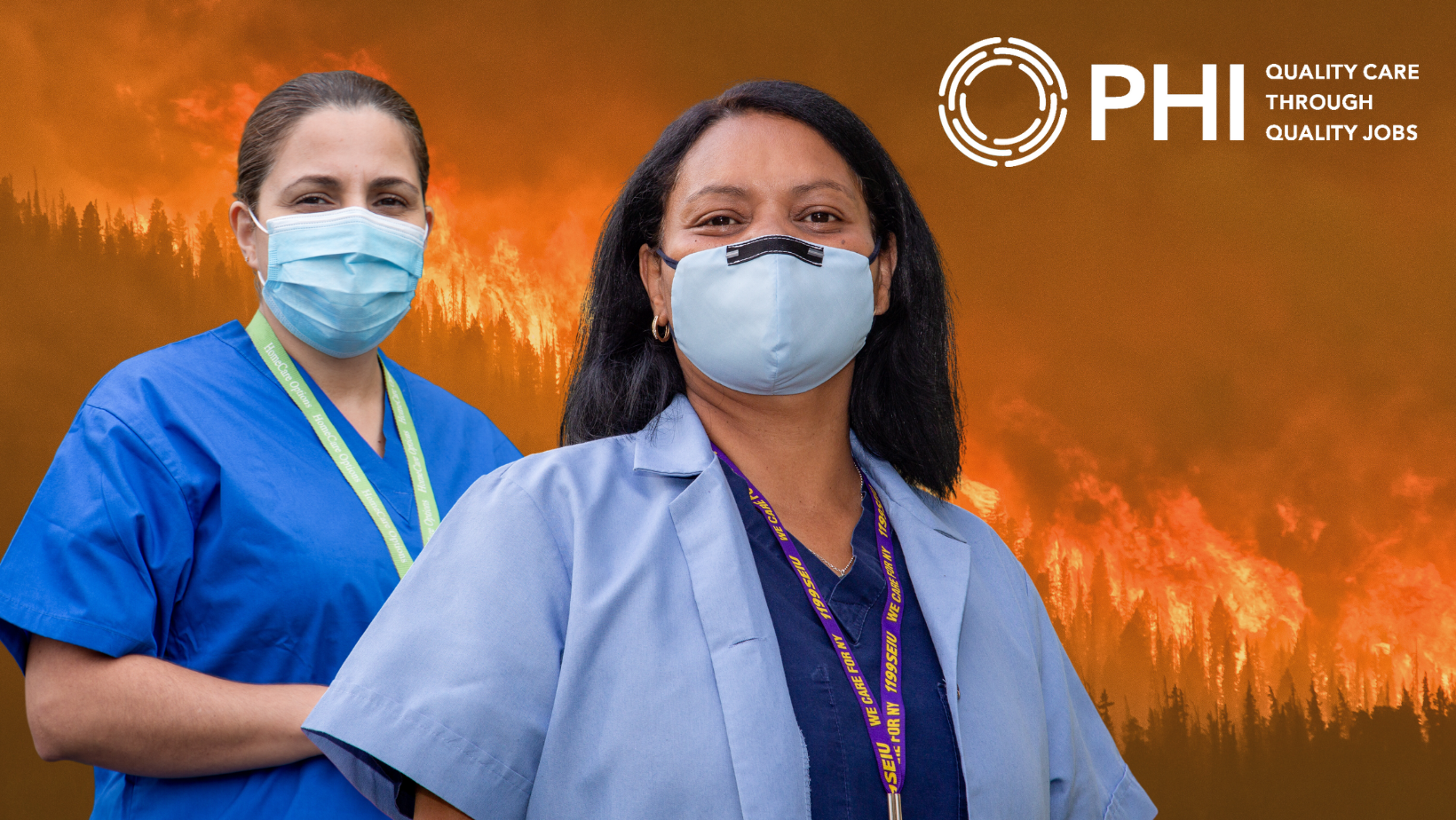 On World Environment Day, we recognize the crucial role of direct care workers in responding to climate emergencies—and the climate-related risks they face themselves. As first responders, direct care workers often help ensure the safety of their clients and residents during extreme weather events. At the same time, this workforce is also disproportionately vulnerable to the effects of increasingly frequent and severe climate emergencies.
Heightened Vulnerabilities
Research shows that low-income people, people of color, and older adults are more likely to live in areas most impacted by climate emergencies, such as wildfires and heatwaves, as well as ice storms, blackouts, and floods. As 40 percent of the direct care workforce lives at or below 200 percent of the federal poverty line, and 61 percent are workers of color, these workers are more likely to experience the hazards of climate change.
The consumers they support share these risks. For example, rising temperatures pose a particular risk to older adults and those on fixed incomes, who may be less likely to own or use air conditioning during deadly heat waves. Moreover, extreme weather events often lead to blackouts and power outages that disproportionately impact communities of color and low-income areas, where people typically have less access to backup power solutions like generators. This can lead to severe repercussions, particularly for older adults and people living with disabilities.
Direct Care Workers as First Responders
During wildfire evacuations, for example, home care workers are likely to know where isolated individuals with limited mobility live and what support they need. This knowledge can be particularly important when there are road closures due to flooding or other hazards and in rural areas with limited transportation options. During blackouts, direct care workers often organize collectively with family caregivers and disability communities to ensure those with medical or assistive equipment needs can safely access power if needed. In residential settings, adequate direct care staffing is particularly crucial when extreme weather events like winter storms cause power outages, burst pipes, or other hazards that may require residents to evacuate.
Building Resilience
Improving direct care worker job quality is crucial to building climate resilience. Bolstering job quality through improved wages, benefits, training, career pathways, and support can improve recruitment and retention and enhance direct care workers' economic well-being in the face of climate crises. Training, support, resources, and recognition specific to emergency preparedness can help ensure that this workforce—already often on the frontlines of climate emergency response efforts—has the tools, resources, and support needed.
One recent example is the Caregiver Resiliency and Emergency Preparedness training pilot for in-home supportive services (IHSS) workers in California. This program is the result of a partnership between the Center for Caregiver Advancement, Service Employees International Union (SEIU) 2015, the California Workforce Development Board, California Climate Investments, and the High Road Training Partnership. Participants learned about the impacts of climate change on caregivers and the people they care for, emergency planning and communication, first aid and CPR/AED, evacuation and sheltering, and stress management and disaster psychology. The training was available free of charge to IHSS home care workers, who received a stipend upon completion of the six-week program.
Building on such efforts to support direct care workers' emergency preparedness and continuing to improve job quality in this workforce is crucial to building climate resilience—and ensuring that older adults and people with disabilities receive the support they need, when they need it.