Immigrants and the Direct Care Workforce (2018)
September 7, 2018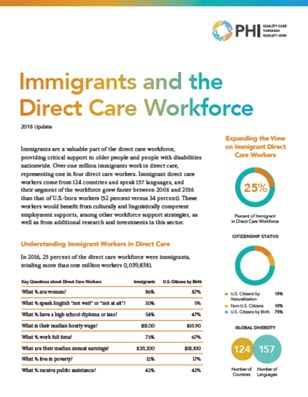 Immigrants are a valuable part of the direct care workforce, providing critical support to older people and people with disabilities
nationwide. Over one million immigrants work in direct care, representing one in four direct care workers. These workers would benefit from culturally and linguistically competent employment supports, among other workforce support strategies, as well as from additional research and investments in this sector.
Key Takeaways
In 2016, 25 percent of the direct care workforce were immigrants, totaling more than one million workers (1,039,838).