U.S. Nursing Assistants Employed in Nursing Homes: Key Facts (2018)
August 31, 2018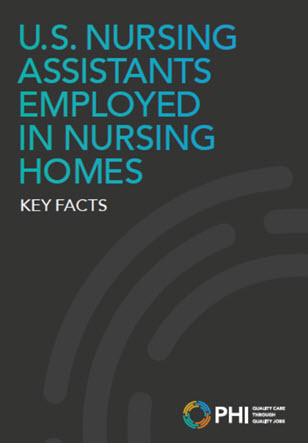 This research brief provides the latest annual snapshot of U.S. nursing assistants employed in nursing homes, including key demographics and a variety of wage and employment trends. This research brief estimates that there are nearly 600,000 nursing assistants employed in nursing homes in the U.S. These nursing assistants earn a median wage of $12.84 an hour and about $21,200 a year – in turn, 15 percent live in poverty (compared to 7 percent of all U.S. workers).
Key Takeaways
Nearly 600,000 nursing assistants deliver personal care, assistance with daily activities, and clinical support to 1.5 million nursing home residents across the U.S.
Due in part to the physical nature of the job, nursing assistants are injured 3.4 times more frequently than the typical American worker.