Will Social Media Rescue Recruitment in Long-Term Care?
As the workforce shortage in direct care intensifies, long-term care providers are facing a tough dilemma: how to recruit workers in an economy where candidates have multiple options—including jobs that offer better pay and higher job quality than the typical direct care job.
Fortunately, many of these providers are rising to this challenge.
In 2016, DAYTA Marketing, a digital strategy and social media firm in St. Cloud, MN, began working with Mother of Mercy Senior Living (MOM) in Albany, MN, to overhaul its recruitment strategies through social media. This digital recruitment project used paid ads to target key markets, driving them to apply online through their mobile devices.
In one year, recruitment and hiring figures soared, transforming Mother of Mercy's workplace and laying the foundation for how other providers might employ social media to improve recruitment.
I spoke with Jason Bergmann, executive director of Mother of Mercy Foundation, and Luke Riordan, DAYTA Marketing CEO & founder, to hear about this collaboration and what it means for recruitment in long-term care.
Robert Espinoza: Tell me about Mother of Mercy.
Jason Bergmann: Mother of Mercy Senior Living is a full continuum senior living facility, including a children's daycare with intergenerational programing. Nestled on the edge of the Albany Golf Course in Central Minnesota, MOM cares for 206 seniors with affordable senior housing, independent and assisted living, nursing home, and memory care.
RE: Why has Mother of Mercy struggled to recruit nursing assistants and care attendants, among other eldercare workers, in Minnesota?
JB: One of our challenges in recruiting staff is that we are in a small town with limited housing options. For example, we are 25 miles from a regional hospital, and even they have said that they could hire 100 percent of graduating nurses and still not fill their needs.
RE: What brought you to DAYTA Marketing?
JB: Traditional "help wanted" advertising wasn't working. Young people are not buying newspapers and we needed to find a way to communicate to them. After searching and interviewing several companies, we chose DAYTA Marketing because they only do social media, and we wanted someone who lives and breathes social media. Also, almost all their staff members are under 30. We thought: "Who better to talk to young people than young people?" They already know the vernacular.
RE: Luke, tell me about DAYTA Marketing.
Luke Riordan: DAYTA Marketing is a full-service digital marketing agency focused on providing solutions that drive true organizational growth. We partner with clients in the senior living industry to drive results across their operations, including recruiting new employees and increasing occupancy.
RE: Why did you take on this project with Mother of Mercy?
LR: We felt confident we could deliver results when it came to attracting new employees. Through our marketing consulting and strategy, we determined that their existing marketing spend could be reallocated from traditional methods (newspapers, radio, etc.) to a mobile- and digital-first approach, with near-immediate positive results.
RE: How did you approach the project in terms of key steps and goals?
LR: We asked questions, learned about their competitive advantages and their employer brand. We then developed a marketing strategy that detailed performance goals and leveraged Facebook, Google, and other platforms on Mother of Mercy's behalf in order to achieve those performance goals and generate results.
RE: Can you describe some of the tactics?
LR: We used Facebook to create highly targeted advertisements that drove potential applicants to their website to apply. Our advertising messaging was based both on their brand differentiators and our prior experience with what appeals best to their key demographics for hiring. Messaging was individualized based on the positions available and video ads were A/B tested [meaning that different versions of the video ads were tested to identify the most effective version] to optimize our results. (See diagram below.)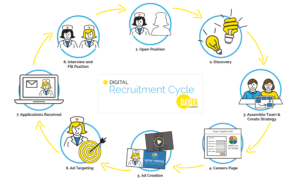 RE: When it came to recruiting workers over social media, why was it important to approach each platform differently?
LR: It's critical to first explore which platforms are relevant for your needs—who are you trying to reach, and for what purpose? Different platforms have different primary demographics. You may need Facebook but not Twitter, or maybe Instagram is your best option. Once you determine the platforms you'll be working with, you need to optimize your strategy and messaging for each one because people use each platform very differently and they expect to see certain types of content on each.
RE: Justin, how did this project impact your recruitment figures?
JB: As expected, we began to see our benchmarks move, and we were getting more attention on social media. (See data below.) DAYTA Marketing knew the tricks to get our message out and they knew how to measure the impact. A major reason for this success is that we modified our online application process to make it mobile-friendly and easier for the applicant to use.
Results. DAYTA Marketing's social media recruitment approach dramatically improved recruitment and hiring figures* for Mother of Mercy Senior Living. Between 2016 and 2017, the number of new applicants increased by 33%, the number of hires increased by 46%, and the number of vacant positions decreased by 45%.

Additionally, Mother of Mercy's annual employee retention rate is about 75 percent, with turnover at less than 12 percent in 2017 and 2018.

* Registered nursing assistants, licensed practical nurses, registered nurses, care attendants, and other employees.
RE: Luke, what was your reaction to these results?
LR: DAYTA is a results-driven company. Our goal is to become an irreplaceable partner. Achieving goals is essential to building a long-term partnership. So, our reaction to positive results: Ecstatic! And then we got back to work figuring out how we could do even better with our next campaign.
RE: For other long-term care providers around the country that want to improve their recruitment numbers, what concrete advice would you offer?
JB: Don't wait to change your recruitment strategies, unless of course you are fully staffed. Also, consider the benefits of putting "warm fuzzies" about your facility in the community. In our case, we know that if potential employees see interesting stories, pictures, articles, and activities taking place at MOM, they will have a better feeling of who MOM is, and they will choose MOM over other options in the area.
LR: When a potential hire becomes aware of an employment opportunity, they are going to research the organization. In most cases this involves Facebook, the organization's website, Glassdoor reviews, and Google or other digital reviews. It is absolutely imperative that the company's digital presence offer an intriguing picture of the competitive advantages of becoming an employee.
Editor's Note: The project described above was made possible through the generous support of the Workforce Solutions Grant Program at the LeadingAge Minnesota Foundation.