August 4, 2023
|
sponsored by

Through interviews and original photography, PHI is working with direct care workers nationwide to document their stories and share their ideas for transforming jobs in long-term care. This interview is with Geana Hopkins-Spann, a Home Health Aide and Certified Nursing Assistant at Home Care Associates in Philadelphia, PA. She has been a direct care worker for 27 years.
On why she decided to become a direct care worker
"I have always wanted to care for people. I knew at the tender age of six that I just wanted to help and be of assistance to others. So I knew from a very young age that this was the path for me. I've been working at Home Care Associates (HCA) for 27 years, and I got my CNA certification over 10 years ago. What I enjoy most is knowing that I'm doing something positive for someone else at a time when they really needed it."
On being a peer mentor
"I've been a mentor for almost nine years, which means I support people who want to become home health aides. HCA sends them to me in the morning when I start my caseload so they can shadow me and watch everything I do for clients. That helps them decide if the job is a good fit for them before they go through the hiring process. It means a lot knowing that HCA trusts me to mentor and help others.
As a mentor, I share my craft with the new aides and make sure they understand the different roles home health aides take on, what client relationships can look like, and how clients feed off the energy you bring. I tell them that you need a lot of patience, empathy, and willingness to learn if you want to work in home care. I also tell them that you can't do this job for the money; you have to have love for this kind of work to do it day in and day out. I like to learn about why they want to go into home care, whether they have past experience caring for others, and if they seem weary about certain parts of the job. Mentoring benefits the new workers, but it also benefits me because I still get to take on different challenges and gain new skills after so many years on the job."
On working for a cooperative home care agency
"I love working for HCA and everybody I work with feels just like a family. I'm a worker-owner, which means I own shares in the company, and I'm able to benefit when the company does well or expands. This is a big plus. I'm also a HCA board member, and get to be involved in making crucial decisions that affect employees. In that way, I get to be part of making the changes we want to see in the field. We also talk about finances on the board, and I learn about the choices HCA is making to keep the company strong.
I'm so grateful that we have access to plenty of training and great benefits, including medical and dental insurance, and an Employee Assistance Program that lets you borrow money if you're in need. This is so important. We also accrue paid time off, and HCA really encourages us to take it. I always take my vacation, because I work hard and I deserve it."
Note: As a cooperative home care agency, HCA invites its caregivers to become worker-owners by purchasing a membership stake in the company. Worker-owners participate in HCA's decision-making and share in the profit of the company's success.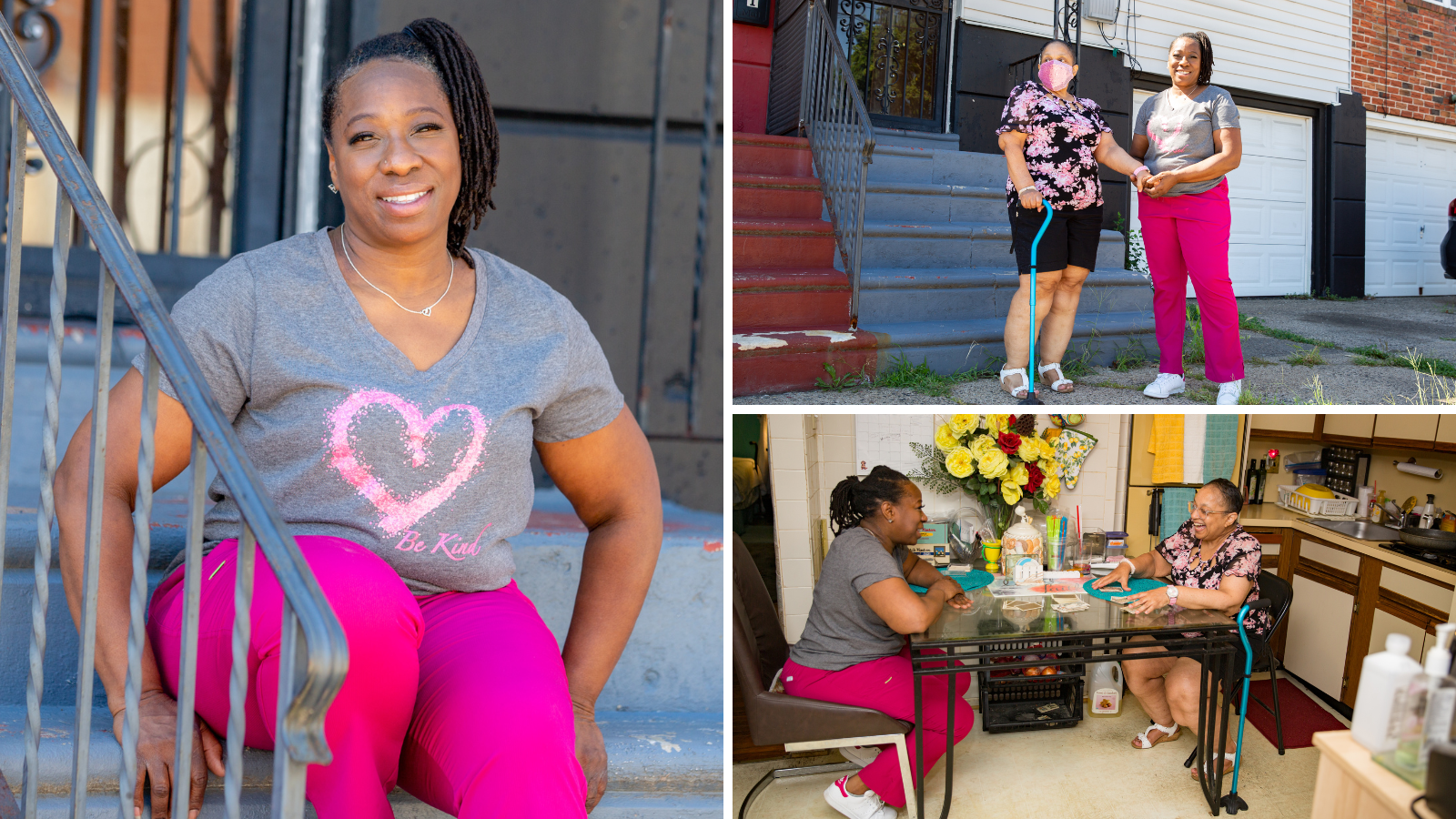 Photography: Kristen Blush @kristenblush
***
The Direct Care Worker Story Project aims to enhance the visibility of this workforce, amplify its voices, and draw on workers' unique wisdom to inform policy and practice. The Project seeks to address the lack of representation of direct care workers in public narratives and ensure images used to depict long-term care work are grounded in workers' and clients' real experiences. If you're interested in sharing your story as a direct care worker, please email us at info@PHInational.org.