Centering DEI in Direct Care Workforce Development
March 7, 2023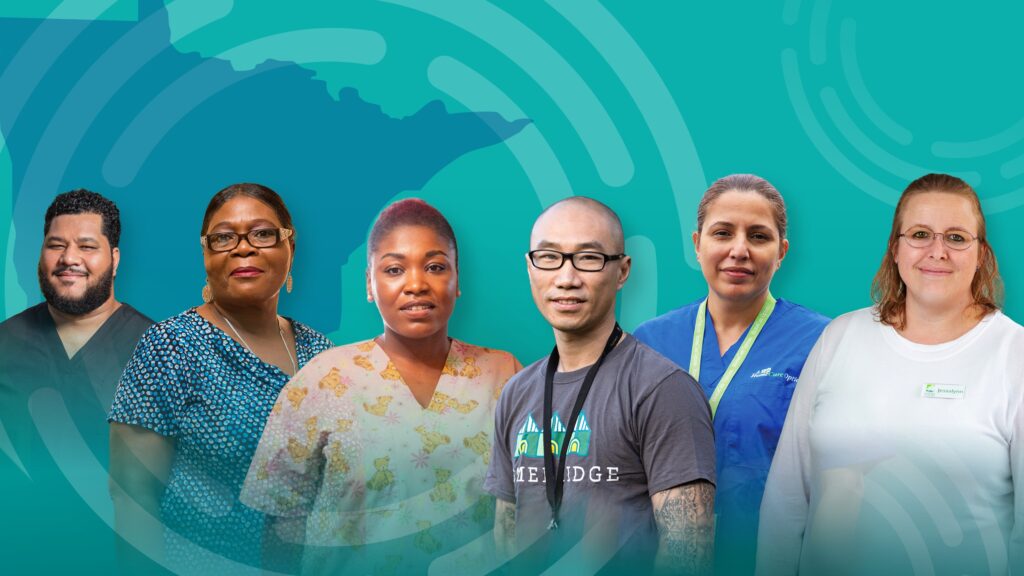 In the summer of 2020, leaders at Knute Nelson, a critical provider of community-based and residential supports and services for older adults in Minnesota, launched an internal Diversity, Equity, and Inclusion initiative, with the goal of infusing DEI principles into all aspects of their work. Catalyzed in large part by the movement for justice for George Floyd, the organization also recognized that creating a more inclusive and equitable workplace would be necessary in order to fulfill their mission of providing quality care to Minnesota's rapidly aging population.
As Knute Nelson's Chief People Officer Brooke Zabel noted, 2020 was also the first year that the state's population of residents age 65 and older exceeded its school-aged population. To meet the coming demand for home care and senior services, the ways that the organization recruited and retained its workforce needed to shift. "We are going to need more people. And we need people to want to come to work for us, so that they can be who they're called to be, while doing this really amazing work," Zabel explained.
"We knew we needed to act," she added. "And we wanted something that was going to stick and be meaningful." In 2020, Knute Nelson began by creating a multi-stakeholder DEI Committee, which was tasked with training the organization's leadership on DEI principles as well as developing an annual action plan.
At the end of 2021, Knute Nelson brought on PHI to assist with the integration of workforce development goals into their action plan. "Our hope is that we can be that employer of choice, where employees are like, 'Yeah, I'm going to go work at Knute, because I can be myself there.' Or, 'I can raise my hand and have an opinion or an idea, and I'm heard, and it's welcomed,'" Zabel said. "And I think that's kind of the Holy Grail—that inclusion piece, that belonging piece."
This collaboration with Knute Nelson came at an opportune time, as PHI was also working to more explicitly center DEI principles in our workforce development offerings. As PHI's Vice President of Workforce Innovations Emily Dieppa noted, "Principles of diversity, equity, and inclusion have always been a throughline within our practice and our policy work." Dieppa continued, "Creating quality direct care jobs is inseparable from building a more diverse, equitable, and inclusive long-term care system. Direct care workers are disproportionately women, people of color, and immigrants, and have been historically undervalued and underrespected—that needs to change."
In 2022, PHI launched its Direct Care Worker Equity Institute, a continuation of PHI's longstanding work that has the goal of "advancing an intersectional racial and gender equity approach that confronts the many injustices experienced by direct care workers." In a promising sign, a growing number of home care providers like Knute Nelson are also recognizing the need to center equity and inclusion in their work. "This is becoming front of mind and central to people's organizations in ways that it hasn't been before," Dieppa said. "A part of the urgency around this work is that long-term care employers continue to struggle recruiting and retaining direct care workers. To be competitive, it's important to expand the labor pool through innovative recruitment practices while creating a workplace that's equitable and inclusive—a place where people can thrive and want to stay." She added, "And I think that our work with Knute Nelson is a really great example of how we're actualizing that work."
In 2022, as part of PHI's work with Knute Nelson, PHI conducted a comprehensive organizational needs assessment, all with a DEI lens, that focused on better understanding the experiences of Knute Nelson's workforce. Through surveys, focus groups, and one-on-one interviews with workers, PHI helped Knute Nelson identify ways the organization could create a workplace culture that was more equitable and inclusive, including understanding what type of DEI training would be needed. "When I think about the lessons from that work, what I want somebody to take away from it is just seeing the value and expertise of the workers themselves, and that they're able to articulate what they don't know and what they need in order to feel like they are equitably treated, and that they're included, and that they belong," Dieppa said.
According to Zabel, Knute Nelson will continue to prioritize its DEI work. In 2023, Knute Nelson and PHI will continue to work together to implement practical solutions and develop a custom DEI training program, with the goal of making measurable changes in Knute Nelson's workplace culture—and ultimately, improve its ability to recruit, support, and retain employees. This work with Knute Nelson, Dieppa said, will be a springboard for PHI to create a DEI matrix to help other long-term care employees perform a similar needs assessment, as well as for PHI to establish a core DEI training program for direct care workers and frontline supervisors.
"My biggest learning is that we just have to talk about these issues," Zabel said. "It's a journey, and we're never going to be done. We're never going to just put a stake in the ground and say, 'Hey, we made it,' and we are now an inclusive culture, because our culture is continuing to be changed every day. So we've got to be steadfast. And we've got to be accountable to each other. The journey is just continuous."
Click here to learn more about PHI's workforce innovation service lines.