Michigan is Moving the Policy Needle on the Direct Care Workforce
Last week, PHI announced the launch of a multi-year advocacy initiative, Essential Jobs, Essential Care, which aims to improve jobs for direct care workers in three states: Michigan, New Mexico, and North Carolina. As part of this launch, we're speaking with the three participating coalitions' leads to understand what this initiative means for them and what they would like to see change for direct care workers in their states.
More than 120,000 direct care workers are supporting older adults and people with disabilities throughout Michigan. Despite their value, these workers struggle with inadequate compensation and poverty-level earnings; in 2019, median annual earnings for Michigan direct care workers was $17,500. Low compensation contributes significantly to high turnover in this sector, impacting the care these workers offer to their clients and residents throughout the state.
Recognizing these challenges, IMPART Alliance has partnered with PHI to co-lead a multi-year advocacy initiative that aims to dramatically improve the quality of jobs for direct care workers in the state. The initiative will focus on three key policy areas: higher compensation, workforce innovations (such as training and advanced roles), and data collection.
Dr. Clare Luz, founding director of IMPART Alliance, is viewed as a leading advocate for direct care workers in Michigan. I spoke with Clare about IMPART Alliance's critical work and what policy changes she hopes to see on behalf of this workforce.
Emily Dieppa: Tell us about IMPART Alliance. How did this group come together?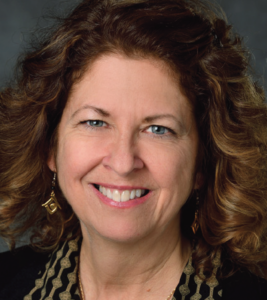 Clare Luz: IMPART Alliance grew out of years of partnering with others to work together toward the mutual goal of raising up the direct care workforce. In 2010, Michigan received a grant from the Health Resources and Services Administration to develop and test a comprehensive Personal Care Aide (PCA) training program, which we did. It's called Building Training…Building Quality (BTBQ). Then, in 2016, I received a grant from the Michigan Health Endowment Fund to establish IMPART Alliance and scale up BTBQ for wider distribution, in addition to working toward culture change and a more robust infrastructure in Michigan to support the direct care workforce.
ED: What are one or two big "wins" IMPART Alliance has led in recent years?
CL: There has been so much hopeful progress in the last several years. It's exciting to be part of moving the needle. IMPART Alliance is now responsible for administering BTBQ, and we're building on the original curricula in multiple ways. We're wrapping up piloting a PCA technical training program for high school students. Despite COVID-19 closing schools down, four students will complete the program virtually this year and receive their certification. We're also in the process of establishing a Direct Care Worker Professional Association, one of the first in the nation. The planning committee is comprised entirely of direct care workers who have already developed a set of professional, ethical, and competency standards for association members.
ED: What is it like to be a direct care worker in Michigan? What are some of the challenges facing these workers?
CL: In 2017, I had the good fortune to receive a fellowship that allowed me to travel across Michigan interviewing and photographing 30 direct care workers. We compiled in-depth stories that validated existing research. There are some regional differences such as harsh weather conditions in the north, geographical distances between clients, and availability of mass transit. However, like most direct care workers, they are all challenged by low wages and benefits, a lack of guaranteed hours and adequate training, and disrespect. They are not able to make it on one job alone. And yet they stay with it because they love the work and their clients. They often see it as a calling. Their stories reveal remarkable skills that are essential to the job, not just the technical hands-on care but also traits such as staying calm, creative problem solving, and extraordinary patience.
ED: What impact did COVID-19 have on this sector?
CL: COVID-19 hit direct care workers hard. They lost work for different reasons, including clients going to the hospital or they and/or their families not wanting the direct care worker to come to the house for fear of contracting COVID-19. This showcased the impact of a lack of guaranteed hours in a dramatic way. No client, no income. Direct care workers who retained clients feared exposure to COVID-19 and potentially bringing it home to their families. The fear was magnified by a lack of PPE or clear, protective guidelines. It was also magnified in communities of color that had significantly higher COVID-19 rates. In some communities, nearly every direct care worker we communicated with lost clients, family members, or friends to the virus.
ED: We're excited to be working with you and IMPART Alliance on our new, multi-year advocacy initiative to improve jobs for direct care workers throughout Michigan. This initiative focuses on advancing policy reforms in three areas: compensation, data collection, and workforce innovations (training, advanced roles, etc.). When you reflect on these areas, is there one workforce-related challenge in particular you hope to tackle?
CL: I firmly believe that all these factors contribute to poor working conditions, the direct care workforce shortage, and the potential for positive change. They are interconnected and have to be addressed simultaneously. Although absolutely critical, it will not help to simply raise wages without addressing the underlying systemic factors that have contributed to the low wages for decades. That's why IMPART Alliance is focused on professionalizing this workforce by establishing professional and ethical standards, training and competency requirements, career pathways, and a recognized credential. We believe these efforts will ultimately lead to better wages, better jobs, more respect, and consequently, better care.
ED: What excites you most about being a part of this initiative? What are you hoping comes from it?
CL: We are thrilled to be part of a multi-state effort, run by an amazing organization such as PHI, that has goals so well aligned with our own. We have long wanted to build a stronger coalition across Michigan of people committed to advocacy on behalf of direct care workers. A coalition allows for leveraging everyone's resources, vital information exchange, networking, and the ability to mobilize for more timely, effective policy change. Our hope is that this project and partnership will substantially increase our capacity to build a sustainable coalition that can serve as a powerful catalyst for lasting change.
ED: Let's close on a lighter note. What do you love most about Michigan?"
CL: Michigan has so much natural beauty, from wide open farmlands with big sky to dense pine forests and of course the Great Lakes. I love the seasons and, surprising to most, I love the weather, especially the wonderful abundance of overcast days.
To learn more about this initiative, which is made possible through generous support from the W. K. Kellogg Foundation, click here.