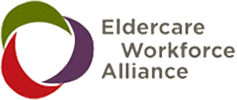 Eldercare Workforce Alliance
Washington, DC
In 2009, PHI and the American Geriatrics Society (AGS) co-founded the Eldercare Workforce Alliance (EWA), with the goal of working to prepare both the health care and long-term care systems to support older Americans and their families. PHI was appointed a co-convener of this historic alliance. At the time, the alliance was comprised of 25 national organizations.
Since 2009, EWA has grown to include 31 national organizations that represent a wide range of health care providers—including physicians, nurses, direct care workers, psychologists, social workers, pharmacists, and physical therapists, as well as elder care employers, consumers, and family caregivers. Today, with PHI's unique, deep expertise on direct care workers, we play a leading role in EWA's policy and communications work, which includes regular meetings with members of Congress, joint publications, and an array of advocacy activities related to issues such as health care, Medicaid, and geriatric training programs, among others.
PHI has been an integral part of the Eldercare Workforce Alliance since our inception in 2009. We rely on their expertise and research on the critical care provided by direct care workers. PHI helps illustrate the need for a well-trained and adequately compensated workforce.
Amy M. York
Executive Director