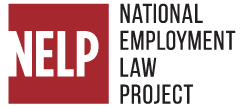 National Employment Law Project
New York, NY
For more than 45 years, the National Employment Law Project (NELP) has sought to ensure that America upholds for all workers the promise of opportunity and economic security through work. And as some of the fastest-growing, lowest-paid, most important jobs in this county, NELP is proud to have been working with home care workers and allies for fair pay and justice.
PHI works closely with NELP to monitor and inform state and national policy developments related to home care workers, and to collaborate on advocacy at the federal level. Most notably, PHI worked with NELP—along with the National Domestic Workers Alliance, Caring Across Generations, SEIU, and a handful of other leading organizations—to successfully extend wage and overtime protections under the Fair Labor Standards Act (FLSA) to millions of home care workers nationwide. This federal victory took years of joint advocacy—legal and policy analysis, online outreach, joint media activities, and more—which continues to this day, as states implement the FLSA rule and opponents fight to overturn it.
As we pursue our shared vision of a world that values direct-care workers, PHI has proven time and time again to be an invaluable partner. With clear data, thoughtful analysis, and workforce expertise, we are grateful for the top-notch PHI team.
Caitlin Connolly
Home Care Fair Pay Campaign Coordinator